Half of 15-year-olds reach standard for GCSE results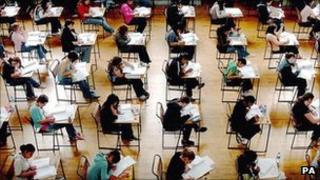 Just over half of 15-year-olds got five or more GCSEs at A* to C grade this year, including English or Welsh first language and maths.
The proportion reaching the so-called level 2 standard rose slightly from 50.1% last year to 50.5%.
But Welsh government statistics show the rate of improvement has slowed in recent years.
It comes after a row between the UK and Welsh governments about regrading this summer's English GCSEs.
Last year's figures showed standards in Wales had risen but were lagging behind England's equivalent. England's results for this year will be published on 18 October.
The Welsh government says figures from the two countries are not directly comparable, but has acknowledged the difference between Wales and England.
'Improvement'
A Welsh government spokesman said: "We welcome the improvements shown in these provisional results, but recognise that there is still work to be done in ensuring all our young people gain the skills they need in literacy and numeracy."
Originally due on 27 September, this year's figures were postponed for a week to include the regraded results of pupils in Wales who took the WJEC (the former Welsh Joint Education Committee) examination board's English language exam.
Nearly 2,400 pupils in Wales received better results after Education Minister Leighton Andrews ordered that their results be regraded.
It sparked a cross-border row and was criticised by UK Education Secretary Michael Gove who refused to do the same for pupils in England.
Provisional figures from the Welsh government show the number of 15-year-old pupils at the start of the academic year fell for the firth year in a row to 35,409.
The proportion with no recognised qualifications was 1.2% - a decrease of 0.6 points on 2010/11.