Ed's smacker splits Welsh Labour at party conference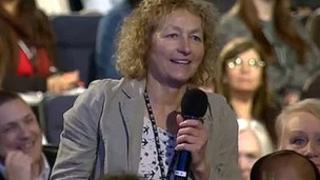 Ed Miliband may have wowed delegates with his "look - no notes" speech to the Labour conference but not everyone is going home happy.
This afternoon, the Labour leader returned to the stage - in shirt sleeves this time - to face questions from his audience.
One introduced herself: "Christina Rees, newly-elected Labour councillor for Bridgend."
So far so good. But then it got trickier.
"And you haven't kissed me, Ed, but you kissed Barbara yesterday and I'm extremely jealous," joked Christina.
A look of mock alarm came over the leader's face as he assured delegates: "Don't get the wrong idea by the way."
Christina told her leader how Labour had won a by-election in Bettws: "The Tories only got 12 votes!"
Ed Miliband started to look concerned: "Don't give us all the Bridgend results because we might be here....."
He cut swiftly to his next questioner - Barbara Jones, from Caerphilly, who introduced herself thus: "I am the lucky one that got the kiss yesterday and I've had so many texts you wouldn't believe it."
Had he not been wearing television make-up, Ed Miliband surely would have blushed. Instead, he briefly referred to delegates as "comrades" for the first time, while imploring Barbara to move on.
Barbara moved on, but 24 hours into the era of "one nation Labour" the leader has discovered that you can't please all the people all the time.