Funding boss Philip Gummett's plea on uni mergers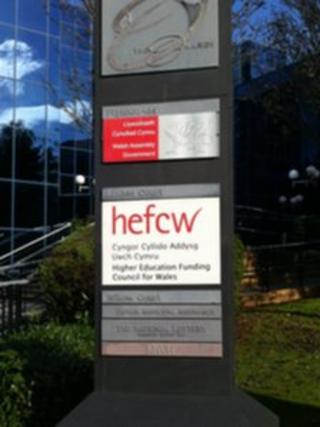 Opponents of university mergers should think about what is best for Wales, according to the outgoing head of the body that funds higher education.
Philip Gummett, of the Higher Education Funding Council for Wales (Hefcw), said governors "should take an imaginative leap".
It comes as Cardiff Metropolitan University fights plans to merge it with two other universities.
Meanwhile, two universities in south west Wales have united.
In an interview with BBC Wales, Prof Gummett, who retires as Hefcw chief executive this month, re-stated the case for Wales having fewer but larger universities.
Hefcw has recommended the creation of a new super university for south east Wales.
But Cardiff Met has threatened to complain to public spending watchdogs about the Welsh government's plans for a forced merger between it and Glamorgan and Newport universities.
It accuses Education Minister Leighton Andrews of failing to provide a business case.
'Imagination'
Although he declined to name universities, Prof Gummett said opponents should not get "hung up on debates about whether or not one can produce fully-costed business plans".
He said it was "perfectly understandable for any institution to start a discussion like this from the point of view of the institution's own interests, and to say we're doing a good job and to say what is wrong with what we're doing."
"But I would say it's important for governors - as they have done in other places and other parts of Wales - actually to raise their eyes above that and say nevertheless within this wider framework what's the best way forward," he said.
"And then to look constructively at ways forward, not to get hung up on debates about whether or not one can produce fully-costed business plans, because you can't at a stage like this."
He added: "So I think one has to have the imaginative leap first that says we think we should raise our sights to a vision of what's best for the people of Wales and in the case you're referring to now the south east of Wales, what's the best way forward there, who should we be working with."
The board of governors at Cardiff Met has said it is considering making a report to the assembly's public accounts committee - which scrutinises Welsh government expenditure - about "the manner in which the minister's office has behaved in this process with public money".
Mr Andrews says there needs to be fewer universities in Wales.
In south west Wales, Swansea Metropolitan University and the University of Wales Trinity Saint David have agreed to unite.
Under the merger - which will create a university of up to 13,000 students - the Swansea Met brand will remain, but it will come under the umbrella of Trinity Saint David.