Scottish independence: What will it mean for Wales?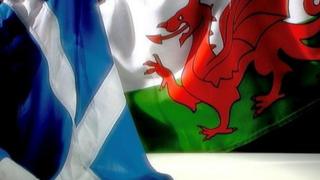 David Cameron and Alex Salmond have agreed there will be a referendum on Scottish independence in autumn 2014.
We know Scottish voters will be asked one question and that 16 and 17-year-olds will be allowed to take part.
But a lot remains unanswered.
It's unlikely to be uppermost in the minds of Scottish voters, but what happen to Wales if Scotland decides it's had enough of the United Kingdom?
Former First Minister Rhodri Morgan says it would put Wales in an "impossible position".
He has compared the UK to an English elephant and three Celtic fleas.
So if Scotland buzzes off will it be more difficult for Wales to make its voice heard?
Mr Morgan's successor, Carwyn Jones - no fan of Scottish independence - says these questions must be confronted before the Scots go to the ballot box.
A House of Commons made up of 550 MPs, 510 of them English, would be "no good to us at all," Mr Jones has said.
In a lecture last year he said that without Scotland, the UK would be a "very different thing" and its constitutional relationship with Wales "would require a much more radical reconsideration".
Raised eyebrows
This could mean more law-making powers are devolved from Westminster to Cardiff, he has suggested, or the creation of a new upper House of Parliament, modelled on the US Senate with equal representation for Wales, Northern Ireland and England.
He has even raised eyebrows - and hackles - with a suggestion that Wales could take care of Britain's nuclear fleet if it wasn't welcomed in an independent Scotland.
And what about the way Wales and Scotland are funded by the Treasury?
Since the late 1970s both countries have received an annual block grant. Its size changes from year to year on the basis of the Barnett formula.
There is a growing consensus in Wales that the formula should be replaced with something that better reflects an assessment of what Wales needs.
The economist Gerry Holtham, an adviser to the Welsh government, says that under the formula, Scotland is "overfunded by about 15%".
But even if Scotland's membership of the UK is a barrier to Barnett reform, that does not necessarily mean its departure from the UK would leave more money for Wales.
Put bluntly, you get what you ask for.
"On the whole, the Welsh have no cards, so they will get what they have always got, which is nothing," Prof Holtham told a House of Lords committee.
Not everyone is as worried about Wales's role in the UK. Perhaps, because they think Wales shouldn't be in the UK at all.
Plaid Cymru has become more vocal about its ambition for Welsh independence over the last year.
Party leader Leanne Wood has predicted Wales will be independent within a generation. One of her former leadership rivals, Elin Jones, said Plaid would have a mandate for an independence referendum of its own if it wins the next two assembly elections.
It is a minority point of view. While a majority of people think the assembly should acquire some influence over the amount of tax they pay, a BBC Wales poll in March showed support for full-blown independence remained weak, with 7% backing it.
Would that number rise if Scotland votes yes? Perhaps we should add it to the growing list of questions about what this referendum means for Wales.