I'm on a train: the Welsh secretary tweets home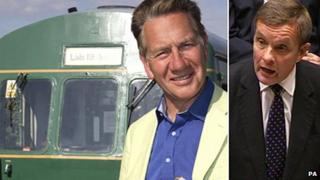 He spends more time on a train than any politician since Michael Portillo.
But whereas Portillo has managed to carve a niche for himself presenting several series of Great British Railway Journeys, David Jones has to rely on twitter to share his experiences.
Portillo never seems to struggle for a seat and his trains always seem to run on time. The new secretary of state for Wales is not so fortunate.
Mr Jones lets the train take the strain during journeys between his home in north Wales, London and the Wales Office in Cardiff.
His lifestyle can be summed up in tweets such as "Ludicrously early to rise; catching a train to Cardiff at an hour many people have never heard of."
Or: "On train to Paddington for London meetings; then Euston for train back to Colwyn Bay. All trains heaving these days. #modalshift"
He is the sort of passenger who inadvertently attracts leaves on the line or the wrong kind of snow: "Eventful journey home. Train has broken down and now occupants of rear 3 carriages have been decanted into front 2. Oh joy."
That particular journey got worse. "Train announcement: " As you can hear, there's an alarm sounding, but there's nothing to worry about. No need to panic." V reassuring."
That tweet was followed by: "I'm trying, but failing, to remember a time when I was not on this train."
His fellow travellers tried to cheer everyone up. "Thankfully, a cheerful black humour has developed. Passengers are asking who is willing to be first to be eaten if train doesn't move soon.
"It's this sort of spirit that saw us through the Blitz. Someone will start whistling Lili Marlene soon."
There was more news to report. "Service terminating at Shrewsbury. I must call my PPS (a local MP)."
Another update followed: "I was supposed to be at home 10 minutes ago. Instead I'm sitting in a pub in Shrewsbury. It's a nice pub, but that's not the point."
It is fair to point out that this was a journey in his own time and at his own expense. At least Mr Jones as a youthful-looking 60-year-old benefits from discounted rail fares with his senior railcard. But, as he might put it, that's not the point.
The journey from hell continued. "Back at station. Platform heaving with delayed passengers. Looks like scene from Bhowani Junction."
Mr Jones did eventually make it home but the journey was not uneventful: "Chester. Good news: we're in striking distance of home. Bad news: we're invaded by a gang of juveniles who've been too heavy on the Irn Bru.
"Rhyl. Juveniles disembark. Sorry, Rhyl."
The jinx appears to follow his every journey: "Train manager on Tannoy: "To those with reservations for coaches F, G, H, I and J, as you can see, they're not attached to this train."
Even train announcements upset him: "Someone should tell the recorded Arriva trains announcer that the last syllable of "Ruabon" doesn't have a Gallic nasal inflexion."
His experiences left Mr Jones approaching new journeys with trepidation. He recently warned followers: " I am about to board a train to take me home. I may be some time."
But perhaps his luck changed after last week's Conservative party conference.
"Something remarkable to report: an uneventful railway journey from Birmingham to Colwyn Bay. #brokenjinx."
It can only be a short journey (if that's not tempting fate) to his own TV series. Perhaps the train tweets of David Jones could become a 21st century equivalent of Bradshaw's Handbook.