What's the role of devolution in child abuse scandal?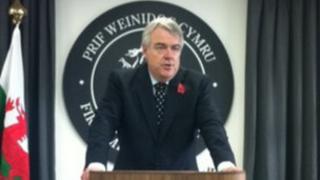 The allegations of child abuse at care homes in north Wales pre-date devolution by decades.
But their re-emergence in recent days presents a dilemma for today's politicians, including First Minister Carwyn Jones.
Mr Jones has endorsed the action taken by Prime Minister David Cameron who has appointed a High Court judge to review an earlier inquiry into the scandal.
Chaired by Sir Ronald Waterhouse, the original inquiry into abuse in the 1970s and 80s took evidence from hundreds of witnesses and cost £12m.
It was commissioned by the UK government and published its findings when the Welsh assembly was in its infancy.
But much of what it deals with is now the responsibility of Wales' devolved administration, not least the childcare system.
Twelve years later, there are questions about whether the inquiry went far enough.
One of the victims, Steve Messham, last week claimed it only examined a fraction of the allegations of abuse.
Calls for a fresh investigation rapidly gained momentum over the weekend.
On Monday, Mr Jones told journalists in Cardiff he had an open mind about whether a new inquiry was necessary, but there needed to be more than one allegation to justify it.
Soon after, Prime Minister David Cameron, on a trip to the Middle East, announced Waterhouse would be revisited - a decision Mr Jones described as "entirely appropriate".
It is one of two investigations initiated by the UK government.
On Tuesday Home Secretary Theresa May revealed that the head of the National Crime Agency will oversee an investigation into historic abuse claims.
A lot of this terrain, including policing, lies outside the scope of the Welsh government's powers - something Mr Jones made clear in the assembly chamber on Tuesday.
"Having competing inquiries doesn't make sense for the victims and doesn't look right in terms of the public eye," he said.
But he stressed that the Welsh government took the allegations seriously.
That's why he also met Children's Commissioner Keith Towler, whose office was created as a result of the Waterhouse recommendations, on Tuesday.
After their meeting it emerged a number of people have contacted Mr Towler's office since allegations of abuse re-emerged over the weekend.
"Both of us fully recognised that the care of children and young people, and the voices of the victims of child abuse, must be central to the investigations underway," Mr Jones said.
While they were meeting in Cardiff, Welsh Secretary David Jones was meeting Mr Messham in London.
The Welsh Secretary said the two investigations that have been launched "underlines this government's commitment to ensure that it will do everything in its power to help the victims and get to the bottom of the terrible allegations".
Devolution presents plenty of opportunities for politicians in Wales and Westminster to fall out.
The first minister has clearly decided this is not one of those occasions.
He said it was essential that allegations are investigated thoroughly "and by a process involving both governments that inspires confidence in the public".
He promised to "work with the UK government to get to what we all want to get at, namely the truth".