Communities First: 'Robust monitoring' for relaunched scheme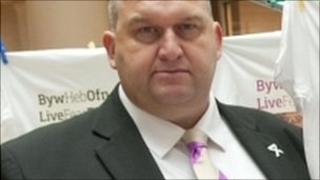 The Welsh government has promised "robust monitoring" of a flagship anti-poverty scheme as it revealed the details of a revamp.
It follows questions about whether Communities First, which helps local people to regenerate neighbourhoods, has delivered value for money.
Local Government Minister Carl Sargeant says he wants to create fewer but bigger projects.
He announced the first 12 places to be included in reforms of the programme.
They include areas of Caerphilly, Cardiff, Flintshire, Gwynedd and the Vale of Glamorgan.
Communities First was launched by Labour in 2001 but there has been criticism of the scheme.
In February 2010 a committee of AMs said it had not delivered good value for the £214m of public money it had so far cost.
'Flawed'
Last year a report by the Wales Council for Voluntary Action said the original design was "flawed" and "over ambitious".
Despite successes in some communities which had identified their own priorities and acted on them, in other places partnerships were "at loggerheads" with local councils, it said.
In July 2011 Mr Sargeant said he wanted to cut the number of Communities First projects, creating fewer and bigger "clusters".
Following a consultation, he announced the first 12 of the 52 clusters on Wednesday.
There will be four in Caerphilly, four in Cardiff, one in Gwynedd, one in the Vale of Glamorgan and two in Flintshire.
Other clusters will be revealed in the coming weeks.
The new programme is expected to be substantially in place early next year.
'Community involvement'
Mr Sargeant promised there would a be a "robust new monitoring framework" for the scheme.
"We will be gathering and making public key information about the work and achievements of the clusters and the programme as a whole," he said.
He said the clusters each have delivery plans that show how they intend to contribute to improvements in health, education and the economy.
"Every application has been carefully assessed to ensure that the highest possible proportion of the budget can be used to deliver projects in local communities rather than being spent on administrative costs," Mr Sargeant added.
"Community involvement will remain central to the programme."
'Scandal'
Jenny O'Hara-Jakeway, co-ordinator of Glyncoch Communities First Partnership, Rhondda Cynon Taf, said: "In some ways the changes are really exciting and they will help us be more focussed because dealing with poverty is such a multi-faceted and complex issue that some of the changes will really help us be more focussed in our response.
"In other ways I'm concerned that the Welsh government is, in response to some of the less successful aspects of Communities First, being overly prescriptive."
She said she was "afraid that the Welsh government is being informed by failures rather than successes," and said it needed to be "very careful not to over-react to some of the scandal".
North Wales AM Aled Roberts, the Liberal Democrats' spokesman for children, education and the Welsh language, said: "We can only hope that the changes that have been announced today actually see more delivery as far as the programme's concerned.
"I don't think any of us would question the need for a flagship programme as far as tackling deprivation is conncerned in our most needy communities.
"But the reality of the situation is, as far as the Welsh government's concerned to date... there's been much criticism with regard to what the programme has achieved - or in this case hasn't achieved."