Welsh tax powers: David Melding says more AMs needed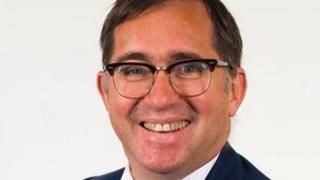 A senior Conservative AM has said the Welsh assembly will need more members if it gets tax-varying powers.
An influential report says a referendum should be held on whether Welsh ministers ought to have new powers over income tax rates.
Control over other smaller taxes should also be devolved, the Silk Commission report says.
But David Melding said he believed the move would mean more assembly members were needed.
He told the BBC's Sunday Politics Wales programme: "We've had no tax powers so far and if we want to do that sort of work then I think we probably would need new members.
"My own view is that we should have 80 members and we should have tax raising responsibilities because I really think that could bring great benefits to the Welsh economy if we use those powers intelligently."
Last week the Silk Commission recommended that the assembly could have tax-varying powers by the year 2020 subject to agreement from AMs, both Houses of Parliament and a referendum.
The commission starts the second part of its report on Thursday when it will call for evidence as part of its investigation into constitutional issues.
The cross-party group has said its remit does not include looking at the number of AMs, or at how they are elected, but the Electoral Reform Society has called for it to look at increasing the current number from 60 to 80.
Stephen Brooks, director of the Electoral Reform Society, said: "The way Wales has been governed has changed dramatically over the past 15 years.
"The National Assembly for Wales has full law-making powers, it has a budget of £15bn and there is a proposal on the table to give it power over income tax.
"I think most people want to know whether ministers are being held to account for important decisions they're taking on our behalf. For that to happen, we now need a stronger National Assembly".
He added: "An independent report came out a couple of years ago and recommended 80 members, I think that's something that should be looked at."
Cost concern
Rachel Banner from True Wales, the main "vote no" campaign group in last year's referendum on assembly powers, said she was worried about the costs.
"Here we are having to fund legal consultants, a new Welsh Treasury, another 20 or more AMs and it really is very predictable," she added.
The Electoral Reform Society said that any changes should be cost neutral and met by cuts in the number of peers and councillors.
But caution was sounded by the Plaid Cymru MEP, Jill Evans, who said she agreed with an increase in principle but now was not the time.
She said: "We've been talking about job losses in Wales - I don't think this is the climate in which we want to be talking about creating new elected politicians."
And David Melding, the AM for South Wales Central, said that a strong case would have to be made.
"You've got to make the argument, you can't just say we've been here for 13 years and it's not really worked with 60 members," he added.