Tory AM Nick Ramsay late to chair committee meeting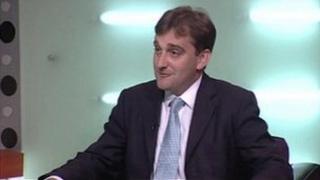 A Conservative Welsh assembly member has failed to turn up on time to chair a committee for the second time in five months.
Nick Ramsay was an hour late for a meeting of the business and enterprise committee in the Senedd on Thursday.
His deputy, the Plaid Cymru AM Alun Ffred Jones, took the chair in his place.
The Monmouth AM did not inform the committee of his late arrival beforehand.
A Conservative spokesman said: "Nick Ramsay acknowledges his late attendance to business and enterprise committee and has apologised to all concerned.
"His overall assembly attendance record remains exemplary."
Mr Ramsay also missed a committee meeting in July. A party spokesman said at the time that he was taken ill the night before.
The Monmouth AM, who earns £12,420 as a committee chair on top of his basic £53,852 salary, lost out to Andrew RT Davies when he ran for the leadership of the Conservatives in the assembly in 2011.