First Minister Carwyn Jones: I stick to my guns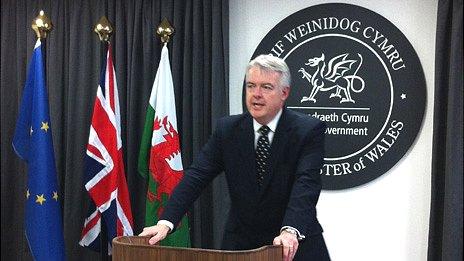 First Minister Carwyn Jones says his Labour Welsh government should be judged on its record, and stressed the importance of "sticking to your guns".
At an end-of-year news conference he said there had been success in creating jobs for young people, agreeing a budget and passing legislation.
Mr Jones also faced questions about a row over council tax and his decision to complain about a TV soap opera.
But he said disagreements were "part of the job".
Earlier in the year Mr Jones faced criticism when he said Britain's Trident nuclear weapons system would be welcomed in Pembrokeshire if forced to leave its Scottish base.
More recently he was attacked by opponents for authorising a complaint about an episode of the BBC Wales-produced soap Pobol y Cwm, when a character criticised his government's decision not to cull badgers. The BBC did not uphold the complaint and said the episode was balanced.
The corporation, which produces Pobol y Cwm for the Welsh-language channel S4C, conducted a "detailed review" after the Welsh government complained.
Mr Jones told journalists in Cardiff on Monday that his government had "exchanged views" with the BBC, adding: "From my point of view there's no point taking this any further".
Next week AMs will be recalled to the assembly during recess to vote on council tax benefit after the government failed to rush through regulations.
The first minister said he had reached a deal with Plaid Cymru and the Liberal Democrats to ensure the regulations were passed.
"It's inevitable from time to time people will disagree with what you have said," he said. "It's all part of the job.
"The key is of course to make sure that you stick to your guns and that you actually implement what you said you would implement."
Reflecting on 2012, Mr Jones said his minority government was on track to deliver Labour headline manifesto pledges such as the jobs growth Wales scheme and making it easier for people to see their GPs.
Without a majority in Cardiff Bay, Labour needs help from opposition benches to win votes in the Senedd.
Mr Jones pointed out that spending plans for next year had been approved after a budget deal with Plaid and the assembly was using law-making powers acquired last year to pass legislation.
At the next assembly election in 2016 he would invite voters to "judge us in terms of what we said we would do and what we actually have done".
"On that I believe we have got a very good record," he said. Asked what he had learned during 2012, Mr Jones said: "You can't get everything right all the time.
"It is inevitable that we will be judged in any position of responsibility and the totality of what you do.
"There are some things that you do that some people will dislike, but what I've always asked people to do - and this is the third anniversary of me being sworn in as first minister - is judge me and judge the government on everything that we have done."
Related Internet Links
The BBC is not responsible for the content of external sites.