Welsh European Funding Office: AMs want 'radical' review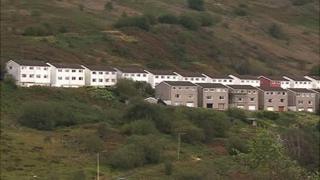 The way European funding is handled in Wales needs a root-and-branch review, a group of AMs has said.
A report calls for an "urgent" and "radical" shake-up of the government's Welsh European Funding Office (Wefo).
The assembly's finance committee has looked at how more than £1.7bn of EU funding for Wales has been spent since 2007.
It says targets for the funding have been met, but there are concerns about how spending is monitored.
AMs heard complaints about Wefo's leadership and the guidance it gives to projects that apply for funding.
In a report the committee says it heard concerns about some aspects of Wefo's work "time and again", adding: "There is an urgent need for a radical restructuring of Wefo."
'Priorities'
Chairwoman Jocelyn Davies said: "The committee has concerns over the lack of leadership, co-ordination and monitoring of what effect these funds are having on communities in Wales.
"Therefore we want to see a wholesale review of the Welsh European Funding Office's purpose and role and a clear distinction of the Welsh government's strategic priorities in the future."
Wefo is the Welsh government office that is responsible for distributing the European funds which Wales receives.
Between 2007-2013, west Wales and the south Wales valleys have qualified for funding worth £1.69bn.
The funding is intended to stimulate the economy and raise wealth levels in the least well-off parts of the European Union (EU).
Other parts of Wales qualified for about £110m in the same period to help make the economy more competitive.
The committee's report comes as EU leaders are continuing to negotiate how much money will be available in the next seven-year round of funding which starts in 2014.
It welcomed an assurance by the Welsh government that it will hold an independent review of arrangements for spending the funds after 2013.
It asks whether it is appropriate for Wefo to simply wait for proposals from the public and private sector, or whether it should proactively look for work.
By the middle of October, 273 projects have been approved for EU funds of more than £1.7bn.
With match funding from other sources, they represent investment of £3.56bn.
Most of the projects (220) are led by the public sector, with EU funds of more than £1.5bn.