Political review of 2012 in Wales: Foundations for change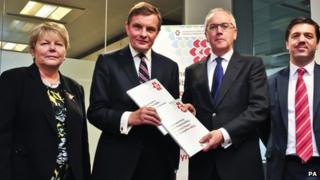 For the political world in Wales, 2012 was a year of firsts, foundations and changes.
It saw the first Act passed by the assembly under its new law making powers - swiftly followed by its first visit to the Supreme Court for the legality of that Act to be challenged.
The first ever set of Police Commissioner elections took place, with turnout even worse than feared, including zero votes cast at one polling station in Newport.
And Plaid Cymru elected its first female leader, Leanne Wood, also the first leader of the party not to be fluent in Welsh.
The Silk Commission laid out the foundations for a new financial system for Wales, with its call for the devolution of some taxes and borrowing powers for the Assembly.
And dominating the political debate were the plans to redesign the NHS, which the health minister said were essential to setting the service on a firm financial foundation for the future - but its opponents called a political fix to centralise services and close hospitals. 2012 saw a series of public consultations, with health boards due to make key decisions early in 2013.
It was another eventful year for education in Wales, with a root and branch review set up to examine whether councils should retain responsibility for schools. It is expected to report in the new year and its findings could shape the sector for years to come.
It was a year of change for Wales at Westminster. A new Secretary of State, David Jones replaced Cheryl Gillan, while also getting a new shadow, with Labour's Owen Smith replacing Peter Hain in May.
Local government, too, saw major changes at May's local elections. Labour, which took a pasting in the previous round of elections, swept back to power in a number of councils, most notably Cardiff, where the extent of its success surprised even senior figures in the party.
But the Welsh government remained dogged by claims that its system of grant management was flawed following a highly critical Wales Audit Office report into the collapsed race equality charity Awema. The office noted it was the 18th consecutive critical report on the government's systems, and the new permanent secretary Derek Jones pledged that civil servants had got a grip on the issue.
So 2012 has laid the foundations for major changes to come in 2013 in key areas of Welsh politics.
Major decisions will have to be made in health and education, while the findings of the Silk Commission are likely to dominate discussions about further financial accountability for the Welsh government.