Home school register on hold after parents' backlash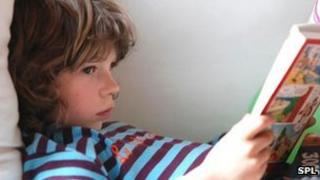 Plans to make the parents of home-schooled children join an official register in Wales have been put on hold following a backlash.
Opponents said the Welsh government's proposals amounted to a licensing scheme for home educators.
Under the plans, parents would have to apply to join the register and would be assessed to see if the environment and education being provided was suitable.
They would also be assessed every year to see if child's needs are being met.
Education Minister Leighton Andrews has now removed the idea from forthcoming legislation and civil servants are analysing the responses to a consultation on a draft bill which would have changed the law.
Advocates of home schooling have met AMs and lobbied the Welsh government in their campaign against the plan.
Wendy Charles-Warner, of Denbighshire, who taught her children and grandchildren at home, said: "The proposal was sold as keeping a register and a check on home educators.
"But when you open the packet that isn't what it was.
"What they were actually proposing was not a registration scheme. It was a licensing scheme."
Mike Fortune-Wood, who educated his four children at home in north Wales, runs a website and journal dedicated to home schooling.
He said local council officials did not have the expertise to decide whether children were being taught properly.
"You've got to remember a lot of these families are home educators because of serious problems at school," he said.
"It (the bill) effectively means the state is responsible for educating the children and parents have to seek permission for what otherwise would have been their responsibility."
In 2008, a report on the attendance and behaviour of school pupils recommended that the former Welsh assembly government consider legislation to inspect home educators and asses whether children's needs were being met.
The proposed register was going to be contained in the Education Bill, expected before the summer.
However, Mr Andrews announced a change of plan in a written statement to AMs before Christmas following a 12-week consultation which drew more than 550 responses.
He said: "I have asked my officials to undertake a thorough analysis of the consultation responses as I want to ensure all views to the proposals are fully considered."
"Due to the large volume and detail of the responses this is going to take time and is not something I want rushed.
A spokesman said the bill has not been scrapped, but that the proposal for a register "needs more time".
Mr Andrews has promised a further statement on how he will proceed with legislation this assembly term, together with a report summarising the responses to the proposal.
The Conservatives said they were pleased Mr Andrews had paused to listen to parents' concerns.
Education spokeswoman Angela Burns AM said: "Many parents for a host of reasons make a positive choice for their children to be educated at home and it would be wrong for a nanny-state-knows-best government to threaten this right."