Wales NHS change: CHCs want strong political leadership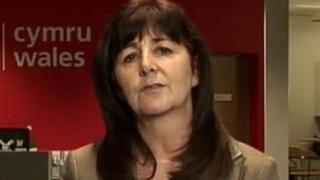 Making big change to hospital services will need strong political leadership, says a patients' watchdog, as Welsh health boards prepare for upheaval.
Community health councils told BBC Wales that reorganisation will involve compromises and difficult decisions.
Health boards are expected to confirm plans for services in north and west Wales next week.
Others will follow in coming months in NHS changes to where and how people are treated.
Health Minister Lesley Griffiths has insisted that reform is necessary to put the NHS on a sustainable footing, but has said hospitals will not be downgraded.
Decisions about whether to approve the changes could be referred to Mrs Griffiths if Community Health Councils (CHCs) object.
Reorganisation plans are expected to be confirmed by Hywel Dda and Betsi Cadwaladr local health boards (LHBs) next week.
Proposals for centralising some services are likely to prove controversial, and previous attempts at reorganisation have sparked protests from the public and politicians.
Paul Worthington, from the Board of Community Health Councils in Wales, the national body that represents CHCs, told BBC Wales' Sunday Politics programme that politicians will have to look at the bigger picture.
He said: "It is a tough call for politicians, we recognise that.
"They have to look after the views and interests of their constituents but there is a statesman's job to be done and one of the strengths, particularly in south Wales, of the proposals is we're looking at things on a regional basis.
'Difficult decisions'
"And sometimes that means compromises locally or difficult decisions locally.
"So we think there is a real call for strong political leadership and strong statesman-like behaviour from our politicians."
He praised the clinical leadership of reorganisation plans and said health boards have engaged with the communities they serve.
Every local health board (LHB) is shadowed by a CHC, except Powys, which has two councils.
They will negotiate proposals for reforms with the LHBs, but if they cannot reach an agreement the CHC has the power to refer them to the minister.
Mr Worthington said they will do so if they believe patients are being poorly served.
"Our aim is to work with the health boards to make sure that we can resolve issues locally and on a regional basis," he said.
"We would prefer not to have to push decisions up to the minister but if we have to we have to."
Opposition parties have previously criticised Mrs Griffiths for her attitude towards CHCs.
In a speech last year she told CHC members not to be "parochial" or to publicly oppose proposals tabled by LHBs.
The Sunday Politics is on BBC One at 11:00 GMT on Sunday, 13 January.