Caerphilly council discusses possible cut to chief's pay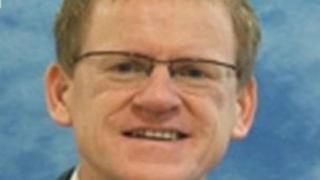 Councillors will discuss whether to scrap a £27,000 pay rise for a local authority chief executive on Thursday.
Caerphilly council will hold a special meeting about increasing the pay of Anthony O'Sullivan to £158,000.
The leader of the biggest opposition group on the council said the chief executive should consider his position.
Officials have given councillors a range of options, including dropping the pay rises for Mr O'Sullivan and other top officials.
Another option is to dismiss them and offer to re-hire them on their previous terms and conditions.
Following protests by staff and trade unions against the pay awards, Labour councillors on the authority issued an apology about the rises.
Labour councillors met trade unions on Wednesday.
Plaid Cymru group leader Colin Mann said: "The options are to do nothing to take the pay rises back and start again, and various options in between.
"What we are calling for is for the rises to be rescinded.
"I have also suggested that the chief executive, as the head of this debacle, should consider his position.
"People are just amazed at what has gone on and the way it has happened."
Mr O'Sullivan is expected to leave Thursday's meeting while the pay decision is discussed.
The council has said that in future, the full council will decide on remuneration levels for senior managers.
The council has previously said a cross-party committee reviewed pay arrangements for senior staff.
Minutes of a meeting where the pay rise was agreed were presented to the full council in October without any concerns being raised. It added that Mr O'Sullivan's pay met an independent external pay scheme.