Carwyn Jones 'pursuing leads' on trade visit to Turkey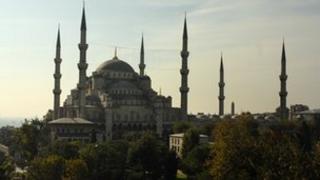 Wales needs a strong presence in emerging economies, First Minister Carwyn Jones said as he began a day of meetings in Turkey.
Mr Jones said he was pursuing potential deals that could benefit the Welsh economy.
It is the first in a series of overseas trips he has lined up in the first six months of 2013.
He warned if the Welsh government "sit back" it will lose opportunities for foreign trade to competitors.
Speaking from Istanbul, Mr Jones told BBC Radio Wales' Good Morning Wales programme that he had meetings with representatives from banking, manufacturing, academia and government.
'Dynamic'
"It's quite clear when you come to Turkey that you see an economy that's growing, a very dynamic population as well," he said.
"They are going to be a power-house in years to come. It's important then that we have got strong business and commercial links with them."
Although he could not disclose "commercially confidential" details, he said the Welsh government was pursuing two "very promising" leads.
He arrived on Wednesday and leaves on Friday morning as part of a "hectic schedule".
"You spend all your time in meetings - that's the way it should be - and in pursuing business contacts," he said.
"So it's always a pretty hectic schedule. We can't afford to sit back because other people will be out here."
Later this month Mr Jones will be in Dublin to address the inaugural conference of the British-Irish Chamber of Commerce.
Next month the Welsh government will take a trade mission to San Francisco and the first minister will be in New York in March and in June he will visit Japan.
'Sell Wales'
As first minister he has already made official visits to China, the US and India.
"You have to go out and sell Wales. No-one else is going to do it," he said.
While he acknowledged that exports to China and the EU had deteriorated recently, exports to the US and India were improving.
The most trade recent figures published by HM Revenue and Customs show the value of Welsh exports in the third quarter of 2012 was £3.1bn - down from £3.3bn at the same time in 2011.
After meeting bosses from the steel giant Tata in India last April, Mr Jones hailed a pledge by the company to invest £800m in Wales over five years.
However, in November Tata said it would be shedding almost 600 jobs at plants in south Wales.
Mr Jones said: "What you have to do is go to countries and make sure Wales is on their agenda. There's no point going somewhere then disappearing for years - people will forget about you.
"One of the messages we have learned is that if you want people to take an interest in Wales you have to make sure that you have a strong presence in those countries that are going to be important in years to come.
"They are countries like India, like China, like the USA and of course now like Turkey."
In total, the Welsh government is planning 16 overseas trade missions this year, although it has not been confirmed that a cabinet minister will attend all of them.
The Conservatives called on the first minister to make sure the trips deliver for Wales.
Welsh Tory assembly leader Andrew RT Davies said: "The first minister must demonstrate that his globe-trotting serves a purpose and amounts to more than hunting winter sun."