Caerphilly council cuts £27,000 pay rise for chief exec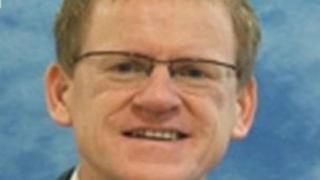 Councillors have voted to cut a pay rise for a local authority chief executive from £27,000 to just £5,000.
Caerphilly council held a special meeting to discuss the original pay award that would have seen Anthony O'Sullivan receive £158,000 a year.
It led to protests by staff and trade unions, leading to an apology from Labour councillors on the authority.
Thursday's meeting agreed to freeze the pay rise at £5,000 for the rest of the administration.
Officials had given councillors a range of options to discuss, including dropping the pay rises for Mr O'Sullivan and other top officials.
Another option was to dismiss them and offer to re-hire them on their previous terms and conditions.
The majority of Caerphilly councillors backed the move to limit the pay rise to £5,000.
Further savings
The Labour-led council will also make a one off saving of £418,000 over four years, after councillors also agreed to reduced pay rises for other top officials.
The decision followed meetings earlier in the day between trade union officials and the Labour group on the council.
Prior to the special council meeting, the Plaid Cymru group leader Colin Mann said the public had been "amazed" by the original pay settlement.
"I have also suggested that the chief executive, as the head of this debacle, should consider his position," he said.
The council has said that in future, the full council will decide on remuneration levels for senior managers.
The council has previously said a cross-party committee reviewed pay arrangements for senior staff.
Minutes of a meeting where the pay rise was agreed were presented to the full council in October without any concerns being raised. It added that Mr O'Sullivan's pay met an independent external pay scheme.