Business bank proposals unveiled by Tories and Plaid Cymru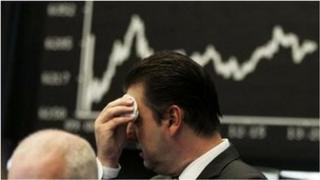 Welsh Conservatives and Plaid Cymru have unveiled competing proposals for state-owned business banks to stimulate economic growth.
Both ideas follow concern that banks have not been lending enough since the financial crash.
The Tory plan lets businesses borrow public money via high street banks and Plaid want a regionally-run bank.
The Welsh government last week announced a review of the difficulties businesses face when trying to borrow.
The Tories' Invest Wales service would be formed through a shake-up of Finance Wales - the Welsh government owned funding agency that lends money to businesses.
The party says too few business people have heard of Finance Wales and that its loans are too big for many small firms.
A Conservative Welsh government would split Wales into six regions - each with its own economic character - and put the Invest Wales scheme out to tender.
Banks or post offices could then host the service with the hope that it would make state help more accessible to local businesses.
Tory sources say they have been looking at ways to foster "organic" economic growth, instead of waiting for big inward investors to generate jobs in Wales.
Plaid's Bank of Wales scheme would also operate on a geographical basis.
Like the Conservatives' plan, Plaid's idea is based on German state-owned banks called Landesbank.
Plaid said Wales needs a similar service with special expertise in local industries.
The Bank of Wales name was bought by the Bank of Scotland, but Plaid AM Alun Ffred Jones said it should be brought back into use.
He said the party's economic commission would investigate the proposal.
"All too often, we hear stories from business owners that have had to use their credit card to finance their growth plans because distant banks are cutting back on capital and unwilling to commit to plans to improve Wales," he said.
Local knowledge
The Tories say Invest Wales is not an attempt to build a bank from scratch, but to harness the "familiarity" that bank managers have with their local communities.
Loans from £1,000 to £1m would be available. Finance Wales would continue to finance bigger businesses.
Tory finance spokesman Paul Davies said: "Invest Wales would be a local bank on a national stage, which could deliver the resources a business needs swiftly and efficiently, subject to robust and proper scrutiny to ensure value for money for the Welsh taxpayer."
Iestyn Davies, head of external affairs at the Federation of Small Businesses in Wales, said banks were restoring their balance sheets instead of supporting business to grow.
"The recent support for the concept of a localised solution is particularly welcome," he said.
"Our recent policy conferences and research has pointed to the way a regionalised model, already used extensively across the US and Europe could help in Wales."