Welsh government keeps faith with GCSEs and A-levels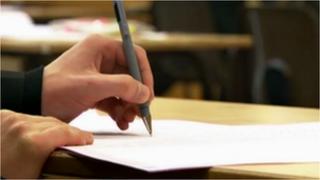 The Welsh government has confirmed that it will retain GCSEs and A-levels as the key school qualifications.
It means further differences between Wales and England where GCSEs are being phased out in core subjects.
The decision by Welsh ministers follows a review which heard concerns about the quality of GCSE students' abilities at reading, writing and maths.
The qualifications will run alongside a revised and "more rigorous" Welsh Baccalaureate.
Ministers are also adopting recommendations to create new GCSEs in English language and Welsh first language, and two new GCSEs covering numeracy and maths.
The new qualifications will be introduced in Wales in September 2015.
Deputy minister for skills Jeff Cuthbert said he was doing what was right for Welsh students and the economy.
On occasion it would be mean "divergence" between Wales and England, he said.
"We will retain GCSEs and A levels," Mr Cuthbert told AMs in the Senedd chamber.
"Where necessary we will strengthen and amend these, but ultimately we have confidence in these well established qualifications, which are recognised around the world."
He also said there would be a UK-wide communication strategy "to raise the profile of qualifications in Wales", especially with employers and universities in England.
England, Wales and Northern Ireland have hitherto shared a common system of A-levels and GCSEs, while Scotland has its own qualifications for teenagers.
'Stability'
Philip Dixon, director of the ATL Cymru teaching union, said the commitment to GCSEs and A-levels "provides stability for our young people and enables them to study tried and tested qualifications".
"They are not being used as guinea pigs in some ill-thought through experiment like their colleagues across the border in England," he said.
Published in November, the review by former college principal Huw Evans said Welsh teenagers should continue to sit GCSEs and A-levels, but as part of a revamped Welsh Baccalaureate.
The report said some employers and universities do not think that a grade C at GCSE English, Welsh and maths is a reliable indicator of literacy and numeracy skills.
It called for new GCSEs in English language and first language Welsh that put more emphasis on the quality and accuracy of students' writing and on the core skills of spelling, punctuation and grammar.
In England GCSEs are being replaced by English Baccalaureates which will be awarded on the basis of a single end-of-term exam.
The Welsh government has already started work on another recommendation of the Evans review to establish a new body to regulate and set qualifications.
'Confidence'
Plaid Cymru said the Welsh government must make sure qualifications offered in Wales remain relevant in the rest of the world.
The party's education spokesman Simon Thomas said: "Learners may not welcome taking two maths exams but it does show the way forward to improving attainment."
The Conservatives' shadow education minister Angela Burns said: "These proposals setting out how Wales-only qualifications could be developed must secure the confidence of employers and universities in Wales, other UK nations and beyond."
Liberal Democrat spokesman Aled Roberts said changes should not be rushed and that "given the continuation of A-levels, that constructive relationships are maintained across the three countries".