Gay marriage: Tories Peter Davies and Rene Kinzett's views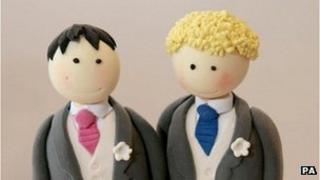 With Wales' eight Conservative MPs opposing legislation on gay marriage, what do party members think?
Tory MPs will have a free vote in the Commons later on Tuesday and many are expected to vote against The Marriage (Same Sex Couples) Bill.
At the weekend, 23 current and former Conservative constituency chairmen warned Prime Minister David Cameron that the bill, which he supports, could harm the party's election prospects.
However supporters of the bill within the party have called on their MPs to back same sex marriage, with Culture Secretary Maria Miller saying it is "the right thing to do".
We asked two prominent Tories on either side of the debate for their views.
Peter Davies, former chairman, Newport West Conservative Association, ex-member, Welsh Conservative management board
"I am dead against. Marriage, I think, is between opposite sexes.
I am entirely in favour of civil partnerships. I think it's only right and fair that if two people decide to live together that they have rights.
I notice that heterosexual couples cannot have a civil partnership, so it's rather unfair to say one lot of people can have a half-way house recognised by the state and say they should also have full marriage as well.
Apart from that, I believe in the religious definition of marriage - a man and a woman. Same sex couples cannot create children of their own and I think it's always better to have a father and a mother.
I don't think we should be introducing this kind of coupling just to please people because they want it.
We are a very large party. I have been a member for nearly 50 years. We always have little problems, but I think we will get over it one way or another.
In the old days, non-ministerial members of the Conservative party in Parliament would give their views on what the public wanted, what they would put up with and what they would not.
I think one of the troubles with the party at the moment is rather than more experienced long-standing members being listened to, there has been more of a move to get hold of focus groups without listening so much to the views of the political party members concerned.
I can't believe there is a huge majority in favour of same sex marriage. I am prepared to be persuaded that I have got it wrong on the general view of the public because I don't have focus groups reporting to me on it, but my own impression is that people are not particularly in favour of same sex marriage.
I think there is a danger that we will lose a lot of members to UKIP. It then depends an awful lot on who is standing in your constituency. If you are an activist and you have an MP or candidate whose view is basically the same as yours then I don't think you will see people go and join UKIP."
Rene Kinzett, former leader of Swansea council group, and chair, Tory Reform Group in Wales
"The change in the law will recognise that couples in same sex relationships deserve the same rights and should be subject to the same responsibilities as opposite sex couples.
The state should have no business in discriminating against same sex couples and should no more seek to deny gay men and women the right to a marriage contract than it would try to deny marriage for couples of different skin colour, or couples of different nationalities, or even age or eye colour.
The act of discriminating against an identified group of people and seeking to deny them access to services or denying them the same opportunities as any other group should have no place in a modern, democratic and civilised society.
And it certainly should not have any place within today's Conservative Party.
I simply do not buy the line being peddled by some in the media that activists and members have been deserting my party in droves over the issue of equal marriage.
Of those who have raised the issue with me, most seem to accept that the measure will go through and that as it doesn't have a negative impact on their lives, they are content with that.
There are a minority of people I've spoken to who are fervently against the proposals and make a lot of noise about it.
But such people are always on the look-out for the next issue to bash the prime minister with - one day it's Europe, the next it's gay marriage.
Whilst 23 local party chairmen have expressed their concerns, Conservative Future, the organisation representing around 15,000 younger party members, has written to the prime minister urging him to press ahead with the proposals for equal marriage."