Plaid Cymru call for assembly powers if Scotland votes 'yes'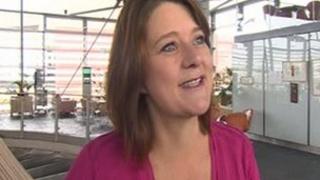 Plaid Cymru leader Leanne Wood has said a "yes" vote in next year's referendum on Scottish independence should lead to further powers for the Welsh assembly being fast-tracked.
She called for pre-referendum talks so Wales "doesn't lose out" in a smaller UK if Scotland becomes independent.
But a Plaid MP said a Welsh referendum should only happen after Wales' economy improves.
They were speaking at a news conference in Westminster.
Carmarthen East and Dinefwr MP Jonathan Edwards said: "We are not in a position to win independence until we have improved the Welsh economy."
Official figures show only 89,000 people in Wales pay the 40% income tax rate and senior Plaid figures said it would take 10 to 15 years before the gap between the performance of the Welsh and English economies closes.
Adam Price, the former MP now co-chairing Plaid's economic commission, said: "It just isn't possible to close that gap in anything less in than 10 to 15 years.
"It will take at least a decade or a decade and a half to undo the damage done by successive governments."
Ms Wood said if Scotland voted "yes" in next year's referendum Wales could not wait until 2020 to acquire powers over income tax rates, as recommended by the Silk commission on devolution.
The Plaid leader said those powers could be "job-creating", but that it was premature to say what those tax rates should be in a devolved or independent Wales.
Ms Wood has previously predicted that Wales will be independent within a generation and part of a British "neighbourhood of nations".