Maternity staff numbers warning from public accounts committee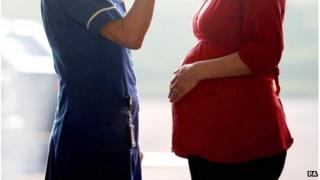 Maternity units in Wales may be operating with less than the recommended number of staff, a report by assembly members warns.
The Public Accounts Committee says NHS services face "significant challenges" in meeting demand, and it could not be sure staff data told the whole story.
AMs also complained of a "lack of urgency" by ministers in tackling the issue of maternity staff levels.
The Welsh government said it was training more midwives.
The committee called for "clear and robust" data, saying it was concerned the government was not getting accurate details of how many well-trained staff work in the system.
Ministers were not able to clarify whether staffing figures from local health boards took account of suspensions or long-term absences.
As a result, it could not be confident that health boards were necessarily meeting guidelines on the number of staff they need.
The Auditor General for Wales, the public spending watchdog, told AMs that not all health boards were meeting staffing levels for nursing and medical staff.
In January 2012, four boards had small deficits in the number of midwives. A later review by the government in May last year found two boards - Betsi Cadwaladr and Hywel Dda - were "not fully compliant".
The report says: "While we recognise that there has been significant progress on this issue, we were concerned that not all health boards are meeting recommended staffing levels for nursing and medical staff."
Committee chairman Darren Millar said ministers had acted upon recommendations that were made by an earlier report in 2010.
"But we also found a lack of urgency in the Welsh government's progress which, at a time of stretched resources and radical changes in approach to the provision of all services by local health boards, concerned us greatly," he said.
"This report is the latest in a series of reports in recent years produced by this committee or its predecessor, and the Wales Audit Office.
'Squeezed resources'
"All have raised similar points about the provision of services and their sustainability in a climate of staff shortages and squeezed resources.
"We call upon the Welsh government to recognise and urgently address these concerns."
The committee called for the government to set out the minimum staffing requirements it expects to deliver safe and sustainable midwifery services.
It also called on ministers to set a timetable for reducing the number of caesarean births.
Caesarean sections have risen steadily since the mid-1990s and by 2011 accounted for a quarter of all births in Wales.
Health boards have been asked to produce plans on reducing caesareans.
Although the government has called for a "significant reduction", it has not set a specific target.
The committee said ministers should define what they mean by "significant reduction" and publish a timetable.
In response to questions about staffing levels, a Welsh government spokeswoman said: "The numbers of midwifery training places commissioned has increased again this year from last year's numbers.
"Decisions about training places are based on what the NHS needs to maintain services, service development, the numbers and age profile of staff and the drop-out rate from the courses.
"Clearly plans also takes into account the student midwives who are already in training and when these are expected to graduate and enter the workforce."
She said NHS organisations were responsible for ensuring they have the appropriate number of staff to meet demand and that the maternity workforce, including midwives and support workers, has increased by 12% in Wales since 1999.
All units are expected to comply with Birthrate Plus, she added.