Plaid Cymru agrees new constitution at special Aberystwyth conference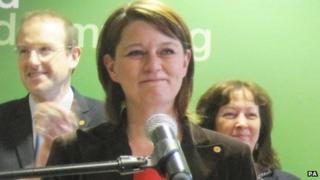 Plaid Cymru has agreed wide-ranging changes to its constitution at a special conference in Aberystwyth.
The agreement ends an internal review which started after disappointing assembly election results.
The party has agreed to scrap the president's role, give members an equal vote, and set up a leader's team which it says will ensure clearer leadership.
Plaid leader Leanne Wood said they were exciting changes that would strengthen the way the party worked.
"Our aim is to become the party of government in 2016, and these changes will help us achieve that aim," she said.
"The creation of a leadership team will ensure that there is greater accountability for the decisions we take as a party from our elected members at all levels, and will mean that there is clearer leadership.
"The leadership team will also incorporate the work of the president.
"The decision to overhaul this long-established post within the party is an historic one, and one which is indicative of our commitment to the renewal and re-evaluation of the way we operate."
An internal party report published last year made a number of recommendations that form the basis of the constitution.
The review, called Moving Forward and led by Plaid's economic policy adviser Eurfyl ap Gwilym, recognised the party's lack of electoral progress.
It laid out structural and membership recommendations that will be reflected in the new constitution.
Mr ap Gwilym said of the revised constitution: "The changes agreed by the party today are extremely important for achieving the goals set out by Camu 'Mlaen, and I am glad that they have won the support of our members.
Fight
"Our values are in line with the natural leanings of the people of Wales, but in the past we have failed to capitalise on that."
Plaid recognises constituencies as the main unit of party organisation instead of local branches or county parties.
Party leader Leanne Wood has previously said the party must win more of the constituency seats that make up two-thirds of the Welsh assembly.
Ms Wood, the regional AM for South Wales Central, has already stated her intention to fight a constituency seat in the 2016 assembly election.
For the first time, the constitution introduces a "one member, one vote" system that will give equal voting power to all in the party.
The new constitution formalises a leadership team at the top of the party responsible for overseeing day-to-day political tactics, which has been effective since the new leader took the reins last year.
As well as the leader, the team will include the party chair Helen Mary Jones, parliamentary leader Elfyn Llwyd, European parliamentary leader Jill Evans, chief executive Rhuanedd Richards, and any other members chosen by the core members -currently Elin Jones AM and Jonathan Edwards MP.