Smoking ban: Doctors say exemption 'won't help film industry'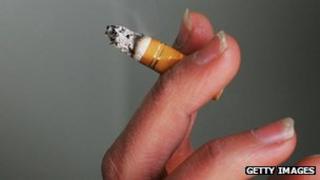 Doctors' leaders in Wales claim there is no evidence the film and TV industry would benefit if actors were allowed to smoke in dramas.
They have urged assembly members not to scrap a ban on smoking on set.
An assembly committee is considering calls to relax restrictions on smoking in enclosed public places in Wales.
Film and TV companies want a similar exemption to that in England which allows actors to smoke on film sets for creative reasons.
The BBC has also called for the law to be changed, warning that the ban could mean dramas have to be made in England.
In its evidence to AMs the British Medical Association (BMA) said relaxing the ban would do nothing to help the industry.
Dr Tony Calland, chair of the BMA ethics committee, said that if AMs agreed to "loosen" the restrictions "I think you would not be doing the best service for the people you represent".
He said the risk of productions being taken over the border so smoking scenes can be filmed in England instead of Wales "doesn't make it right either".
"Just because it's happened in England doesn't mean that it's right," he said.
'Healthier society'
The Royal College of Physicians (RCP) said relaxing the ban would expose workers to passive smoking.
It added that allowing smoking on set could "signal a green light for much more widespread use of smoking in productions".
Dr Keir Lewis, a consultant in respiratory medicine from the RCP, said that "de-normalising" smoking "would lead to a better and healthier society".
However, the Film Agency for Wales said that maintaining the ban "would be an impediment to potential feature productions in what is already a demanding and complex environment".
It said keeping the ban "would make it more likely that a producer would simply look to the many other alternatives, internationally as well as in the UK".
The agency's chief executive, Pauline Burt, said that in relation to productions where actors and crew could be exposed to smoke "nobody is forcing them to take that job".
However, Labour AM Mark Drakeford, who chairs the assembly's health committee, said that was "the slogan of rogue employers in every industry that you can think of".