Betsi Cadwaladr: Gwynedd NHS plans referred to minister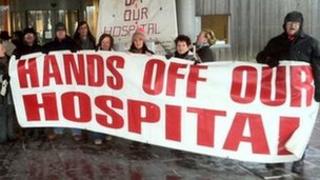 Aspects of an NHS shake-up in north Wales have been referred to the Welsh government.
Some people in Gwynedd could face a 60-mile round trip for x-rays and further for urgent mental health services, the local patients' watchdog says.
But the North Wales Community Health Council (CHC) confirmed it backs the principle of closing four community hospitals.
Campaigners said the CHC has "blown huge holes" in the health proposals.
Local health boards (LHBs) are drawing up plans on how they think services should be delivered in the future. CHCs can refer them to the health minister to take a final decision.
'Serious reservations'
The CHC for north Wales has written to Health Minister Lesley Griffiths to spell out concerns about some aspects of a shake-up proposed by Betsi Cadwaladr University Health Board.
The plans being referred to her relate specifically to changes to minor injuries, x-ray and older people's mental health provision in Gwynedd alone.
However, the CHC says it has "serious reservations" about implementing the LHB's plans for Llangollen, Flint, Prestatyn and Blaenau Ffestiniog community hospitals.
Although these specific plans have not been referred to the minister, the CHC has asked her to monitor them.
The LHB's timetable means services will be lost before new ones are in place, the CHC says.
'National standards'
The CHC's letter to the minister also points to other areas of concern, including the proposal to move specialist neonatal intensive care for new babies to Arrowe Park Hospital, Wirral.
It could mean other services are lost from north Wales, making it more difficult to recruit staff to the NHS, the CHC says.
However, CHC chair Christine Evans said: "We think - as lay people - that the health board has no choice but to take the Arrowe Park option if we are to have a service which meets national standards."
She added: "Many people have urged us to make a formal objection to the plans for neonatal intensive care services.
"We have put every point raised with us directly to senior medical and managerial staff at the health board.
'Health Alliance'
"And some of them - for example the effect of the plans on medical staff training and the loss of specialist services from north Wales - are included in our letter to the minister."
The North Wales Health Alliance - set up after a public meeting in St Asaph last month - said it showed the CHC had "listened to our complaints and concerns".
The alliance does not agree with all the CHC's decisions, including its support for moving specialist intensive care for babies to England.
It asked for community hospitals which have closed to be re-opened immediately to "maintain important community care".
A number of other issues have also got to be looked at including the cost of replacement services, the alliance said.
"In spite of clear evidence to show that neonatal intensive care can be delivered to a standard in north Wales, the CHC has not referred this to the health minister".
"It is now clear there is a systemic failure to recruit and retain specialist staff in this service and there is no evidence that Arrowe Park can provide a better service without using the millions from the new contract from Betsi Cadwaladr."