MP Glyn Davies breaks ranks with Tory AMs on energy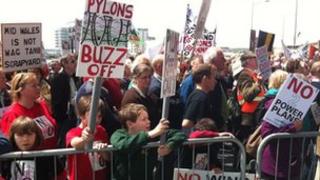 A Conservative MP says a call by Tory AMs to devolve more powers over energy policy to the Welsh government would happen "over my dead body".
Montgomeryshire MP Glyn Davies, who has opposed plans for wind farms in his constituency, broke ranks with his party's group in the Welsh assembly.
Tory AMs want decisions about electricity generation schemes up to 100MW to be taken in Cardiff Bay.
But the assembly Tory leader said others were entitled to their views.
It comes as the all-party Silk Commission looks at the assembly's powers.
In their submission to the commission Tory AMs say responsibility for energy schemes up to 100MW should lie in Cardiff Bay.
The devolved administration already has powers over schemes up to 50MW and Welsh government ministers have called for further powers up to 100MW to be devolved. The UK government has rejected the call.
Boosting the assembly's power in the field would mean "key decisions" on energy policy "are made in Wales", the Tory group says.
However, writing on Twitter, Mr Davies said: "Welsh Conservatives want to devolve 'energy' to Welsh assembly. Over my dead body. Welsh Gov't is determined to destroy mid Wales landscapes."
Three of the seven areas chosen by the Welsh government as potential sites for wind farms are in Powys.
There have been big protests, including on the steps of the Senedd, against renewable energy projects in the county.
Mr Davies, a former AM, said he was open to giving the assembly new powers in other areas, including over income tax and the police.
Conservative assembly leader Andrew RT Davies pointed out that his group's spokesman on the environment and sustainable development is Tory AM Russell George, who also represents the Montgomeryshire constituency.
"People are entitled to their view, let's not get excited about it," he said.
"It will continue to be group policy and we will continue to argue for it.
"Just because one politician here and one politician there disagrees, it doesn't mean that the policy isn't a sound policy."