Blaenau Gwent council held back by problems, says WAO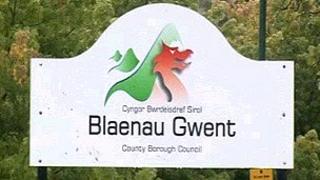 Long-standing problems have held back improvements in services at Blaenau Gwent council, says the public spending watchdog.
The Wales Audit Office (WAO) said education was "unsatisfactory" and social services faced big challenges.
Blaenau Gwent is ranked as the least attractive place in the UK for inward investment.
The council said it was committed to making improvements and that the WAO had recognised its progress.
Auditors blamed "long-standing cultural, performance and leadership problems" at the authority.
Together with "limited corporate capacity"... it has led to "inconsistencies and weaknesses in how the council plans, organises and delivers better services".
A report - the latest in a series of assessments of all Welsh local authorities - said the council was unlikely to comply with a requirement to make arrangements for improvements.
The council, which has a budget of more than £280m, was "slowly taking action", the WAO said.
"However, the pace and scale of change required over the next six months is considerable and it is uncertain whether the council will achieve a sustainable and consistent improvement in services for citizens in Blaenau Gwent," it added.
Education services are described as "unsatisfactory". They have been run by Welsh government-appointed commissioners since it became the first local education authority to go into special measures in July 2011.
Social services face "significant challenges and are likely to be unsustainable without additional resources or implementing new ways of working", according to the report.
'Least competitive'
People have not been encouraged to use public transport and despite significant capital investment to improve the condition of roads, the WAO said it was "unclear" whether they are any better.
In 2008 and 2010 Blaenau Gwent was ranked 379 out of 379 councils as the least competitive place for new businesses in the UK.
Although the recession has taken a toll and pushed up unemployment, the WAO said the number of new private businesses has fallen, despite significant investment by the council.
There has been an attempt to regenerate town centres such as Ebbw Vale and Abertillery, but the WAO said "it is not resulting in significant improvements for citizens".
Council leader Hedley McCarthy said the WAO's annual improvement report was "a clear assessment of where the council is performing well and delivering improved services for our residents and also where we need to do more to deliver better outcomes for Blaenau Gwent's communities".
"It further reinforces the council's commitment to working to drive forward improvements," he said.
"As a direct result of the report we are working hard to strengthen our corporate capacity, developing robust budget management systems to meet today's challenging economic environment and focusing on our human resource management arrangements to support continuous improvement.
"I am encouraged that the WAO has recognised the progress that the council is making and with the foundations for continuous improvement in place we look forward to continuing to work constructively with the Wales Audit Office."