Welsh Lib Dems: Danny Alexander signals tax powers offer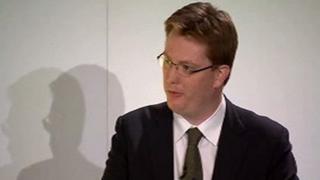 The chief secretary to the Treasury has given his strongest signal yet that Wales will be offered major tax and borrowing powers.
Danny Alexander said there was now a consensus in Wales on the issue and he would "work tirelessly" to make it happen.
He was speaking at the Welsh Liberal Democrats conference in Cardiff.
The Silk Commission wants a referendum on whether Wales should have income tax rate varying powers.
Under the plans, the Welsh and UK governments would share the yield from income taxes by 2020, in advance of a referendum.
The commission was set up to examine the case for more tax raising powers.
When it reported back, it also recommended responsibility for a series of smaller taxes be devolved to Cardiff, together with significant borrowing powers.
"We need a new model of devolution for Wales - a model in which additional responsibility for raising revenues strengthens responsibility too," he told the conference.
"A model in which significant income tax powers unlock commensurate borrowing powers for Wales too.
"We are still working through our response to the Silk Commission with the Welsh government but I will not allow a response to Silk that doesn't meet those aspirations.
"I said when I came to Wales in 2010 to speak to the (assembly) finance committee that there was a strong case for tax and borrowing powers, if there was a consensus in Wales.
"Now that we have such a consensus, I will work tirelessly to make this happen," Mr Alexander added.
Mr Alexander said a "properly functioning (Welsh) parliament with additional responsibilities" would create "a stronger economy in a fairer society for Wales".
UK ministers' response to this first phase of the Silk Commission's work, which considered taxes and borrowing, is due to be published soon.
In its second phase, the commission is now considering whether powers over more policy areas should be devolved to Wales.
The UK government's submission to this part of the enquiry said there was no need for "radical" changes to the current arrangements.
A Welsh government spokesperson said the first minister has made clear that he wants to see full implementation of the Silk Commission's recommendations, with legislation in this parliament.
"This is a position supported unanimously by all parties in the Assembly. So it is good to hear the chief secretary setting out the UK Government's intention to implement Silk and we look forward to a formal announcement on the way forward as soon as possible.
"Silk recommends that there would need to be a referendum before powers to vary income tax rates were devolved to Wales. The first minister agrees.
"The people of Wales should have the final say."