Wales PCS members join another day of strike action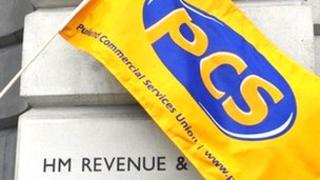 More than 5,000 Welsh civil servants are expected to join in a day's strike action on Friday as part of ongoing action over, jobs, pay and conditions.
The Public and Commercial Services (PCS) union is mounting a three-month campaign against government cuts.
Workers at the DVLA in Swansea, Companies House in Cardiff, and the Intellectual Property Office in Newport will be taking part.
The Home Office says it has contingency plans in place.
Staff at the Land Registry in Swansea which was recently told it faces as increased threat of privatisation are also expected to walk out.
Action is being taken in different areas of the county since the union's 250,000 public sector members since a national walkout on budget day in March.
Negotiate
Next Thursday there will be a one day strike throughout Wales and the south west by PCS members in the Department for Work and Pensions and HM Revenue and Customs.
Members of the union at National Museum Wales will take strike action on Saturday, 8 June.
The union's annual conference in Brighton last week agreed to stage a fresh national strike next month if the government continues to refuse to negotiate.
PCS Wales secretary Shavanah Taj said the action sends a message to ministers that the need to address their concerns.
"Our members have been forced to take strike action by the persistent refusal of the UK government even to talk to us about issues like job cuts. declining real pay levels and threats to their terms and conditions.
'Low turnout'
"Civil servants work hard to deliver important services on which the public depends," she said.
"They are fed up of being taken for granted and seeing their living standards and workplace rights undermined."
A Cabinet Office spokesperson said: "We have got a contingency plan in place and we have seen a low turnout in strike action in the past.
"It's obviously disappointing that the PCS has said it is going to push for strike action."
The spokesperson added that it had been a tough decision to freeze public sector pay, but those earning £21,000 had been protected.