Ministers' health and education record is 'patchy'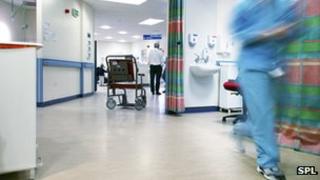 The Welsh government's record on Wales's long-term challenges has been described as "patchy" by the director of a leading think-tank.
Lee Waters of the Institute of Welsh Affairs (IWA) said the current Labour government was a political success, despite lacking an overall majority.
But there were failures in health and education that needed to be addressed, he said.
The Welsh government is due to publish a report on its progress later.
The annual update on the programme for government is designed to show how well the administration is performing.
Data will be available online from Tuesday afternoon.
Targets missed
Mr Waters said he wanted to be a critical friend when he took the helm at the IWA this year.
He said First Minister Carwyn Jones had kept his minority government in power since 2011 and "deflected" blame for spending cuts on to Westminster.
"He's done very well on the politics," he said.
"But the government is about the long-term decisions about the problems we face, and that's where I think the record is much more patchy."
Targets had been missed for waiting times and ambulance call-outs, he said.
"They've been in government for 13 years and they are still missing key targets on the health services."
Despite making a series of reforms, Education Minister Leighton Andrews has warned the next round of results from the world-wide Pisa tests are unlikely to show an improvement when they are published in the autumn.
"On their own benchmark of delivery the government have still got a long way to go," Mr Waters said.
He added: "On the positioning, on the image, Carwyn Jones is doing very well and the opinion polls show that he is very popular, more popular than his party. And he's also buoyed up by the UK opinion polls where Labour are doing well.
"He comes across as Mr Wales very well.
"I think what's more difficult is understanding, in terms of a strategy the government has, what that actually means.
"There's a lot of individual ministers ploughing their own furrow doing their own things, but the government as a whole - is it more than the sum of its parts? That's the question I think Carwyn Jones still has to answer."