April Jones murder: Block online child porn, says Carwyn Jones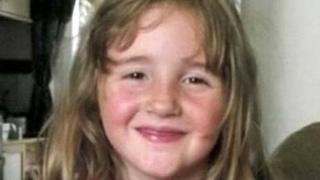 First Minister Carwyn Jones has joined demands for internet providers to block images of child sex abuse.
His comments to AMs followed the jailing of Mark Bridger for the murder of five-year-old April Jones in Powys.
The trial was told Bridger searched the web for child abuse and rape images.
Mr Jones said he could not understand why there was material on the internet that it would be a crime to put in a magazine and promised to pursue the issue to the "greatest extent I can".
There have been similar calls by other senior politicians, campaigners and a government adviser on child internet safety for internet companies to block links which paedophiles use to find pictures of abuse.
Google has said it has a "zero tolerance" policy on child sexual abuse content.
Bridger, 47, was jailed for life after he was convicted last week of killing April, from Machynlleth, Powys.
'Unfettered access'
During his weekly question session with AMs, Mr Jones said: "We were all deeply shocked at the events surrounding the tragic murder of April Jones, particularly those of us who followed the trial in some detail - utterly appalling, not just for her parents but for her entire family and indeed the entire community.
On the subject of online images of child sex abuse, he said: "There are some who take the view that the internet should be as uncensored as possible. I do not take that view when it comes to, amongst other things, child pornography.
"I cannot see what possible advantage there is in allowing unfettered access to something that if it were published in a magazine would be a crime - I don't understand it," he said.
Mr Jones was answering a question from Montgomeryshire AM Russell George, whose constituency includes Machynlleth.
Mr George asked what discussions the first minister had had with the UK government and other devolved administrations "so that the strongest British case can be made to these companies that we will no longer [be] prepared to tolerate this content, that they too have a social responsibility to show real leadership and adopt a zero tolerance policy on such content".
Mr Jones said there has been "no recent discussions" but he would write to Prime Minister David Cameron "to ask him what his response might be after the revelations that emerged in the trial".
The first minister added that he "would want to pursue this to the greatest extent that I can".