Severn barrage firm founder Richard Bazley quits board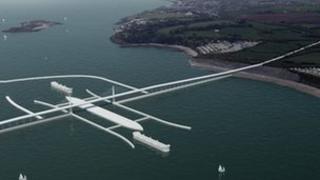 A founder of a company hoping to build a barrage across the Severn estuary has resigned from the company's board.
Richard Bazley, until recently Hafren Power's largest shareholder, quit weeks after BBC Wales revealed he had previously been bankrupt three times.
The firm said he quit some weeks ago, but is still a minority shareholder.
Another founder of the firm, Idwal Stedman, has said that previous mistakes in unrelated industries should not detract from the barrage project.
Mr Bazley, who has described himself as a "serial entrepreneur," has previously declined to be interviewed.
Hafren Power wants to build an 11 mile (17.7 km) barrage between Lavernock Point near Penarth, Vale of Glamorgan, and Brean near Weston-super-Mare, Somerset.
Backers claim the £25bn barrage could generate 5% of Britain's electricity.
Mr Bazley, who was declared bankrupt in 1977, 1994 and 2005, left the board as the project stepped up its preparation and signed up "delivery partners" in engineering and logistics.
Climate change
The BBC investigation also revealed that Mr Stedman, who sits on Hafren Power's regional committee, had been declared bankrupt twice: in 1994 while working as an architect and in 2006 while an antiques dealer.
News of Mr Bazley's resignation from the board emerged days before MPs are due to publish a report on the scheme.
Next week's report from the energy and climate change committee could be crucial to the chances of the Hafren Power bid getting the go-ahead from the UK government.
A similar project was rejected by the UK government in 2010 on grounds of cost, but Hafren Power says the revised barrage would overcome that issue and also be more environmentally friendly.
Backers say a barrage would create jobs and help tackle climate change, but opponents warn that it would harm the local environment and endanger wildlife.