Wales NHS: Rise in waiting over 36 weeks to start treatment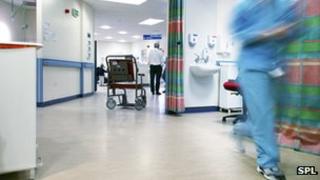 The number of patients waiting more than 36 weeks to start NHS treatment in Wales has seen a sharp rise.
Statistics Wales figures show 7,600 patients waiting that long in April, a rise of more than 2,000 but the Welsh government target is zero.
The figures also show nearly 31,000 are waiting 26-36 weeks and 396,000 are waiting for a first appointment.
Conservatives said "spiralling waits" were almost the norm but Welsh ministers blamed the severe winter.
Tory health spokesman Darren Millar said NHS waiting times were getting "progressively worse".
"April's rise came at a time when financial pressures were at an all-time high and it's clear that Labour's record-breaking budget cuts continue to have an incredibly damaging impact," he said.
"There will soon be 400,000 people on an NHS waiting list in Wales and it's about time the minister (Mark Drakeford) liaised closely with health boards and rapidly reduced the problem."
Welsh Liberal Democrat leader Kirsty Williams said the waiting times figures were "atrocious".
"The Welsh Labour government's target is already less ambitious than in England, yet these targets are still frequently missed," she said.
"Why should Welsh patients be forced to wait so much longer?
"Wales has the longest ambulance waiting times in any part of mainland UK, urgent cancer treatment times not met since 2008, A&E targets that have never been met, the list goes on - the people of Wales deserve better."
Extra operations
Plaid Cymru's Elin Jones said patients were entitled to be ask "why the persistent failure to meet this target has yet to be addressed".
"It's clear that the minister has to get to grips with the health service in Wales.
"Instead of being obsessed with endless reorganisations and reconfigurations, a Plaid Cymru government would put patients first and recruit the doctors Wales badly needs to meet the growing demands on our health service".
But Welsh ministers attributed the figures to the impact of the severe winter.
A Welsh government spokesperson said: "The health service in Wales is well aware of the need to treat patients who, as a result, have waited beyond the maximum time.
"A speciality by speciality approach is being taken to ensure that additional planned operations are carried out over coming months.
"The vast majority of patients are, of course, treated well within the maximum waiting times."