Severn bridges tolls cash warning from UK minister Stephen Hammond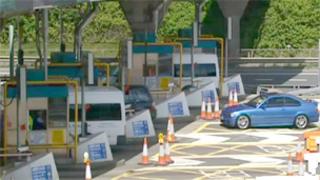 Any change in the running of the Severn bridges must benefit motorists from both Wales and England, a UK government minister has warned.
The Welsh government hopes to take control of the two bridges when they return to public ownership in 2018.
First Minister Carwyn Jones has said any money left over from tolls could go towards upgrading the M4 in Wales.
But UK Transport Minister Stephen Hammond said that no decisions have been made over ownership or tolls.
On Tuesday Mr Hammond told MPs on the Welsh affairs committee at Westminster that he expected Severn River Crossings plc to have have earned the £1.029bn value of its contract in five years time.
He said: "No decisions have yet been taken on the future arrangements of the crossings after the end of the current concession and that is still five years away.
Outstanding costs
"What is clear is that any future regime will need to recover the outstanding government costs incurred relating to the crossings.
"It will need to make provision for the maintenance of the crossings and reflect the interests of road users both in England and Wales."
The "outstanding government costs" are estimated at £88m and Mr Hammond said he thought that could be recouped within two years after the concession ends.
Asked whether the UK government had made any cost-benefit analysis of the impact of scrapping tolls, Mr Hammond stressed: "We haven't taken any cost benefit analysis on future tolling arrangements and we haven't taken any decisions on it."
He played down the significance of a Welsh government-commissioned report that suggested scrapping tolls would deliver a large benefit to the local economy.
Mr Hammond said that was a "tentative conclusion" with "some pretty heavy caveats" and added the UK government could have firmed up numbers within three years of the concession ending.
As well as reflecting the interests of Welsh and English road users, Mr Hammond said any future options would need to reflect the ability to make sure that the costs of maintaining the Severn river crossings can be met.
Mr Hammond was asked whether a comment by Welsh Conservative transport spokesman Byron Davies that the crossings "should rest firmly in the hands of the Welsh people" was party policy.
But he said: "It's the first time I've seen that quote. I've just given you the government's position."
A report for the Welsh government last year said abolishing the tolls would increase traffic by an estimated 12% - equivalent to about 11,000 vehicles a day.
It found businesses and commuters spend £80m a year crossing the bridges.