Spending review: Borrow to spend, say devolved nations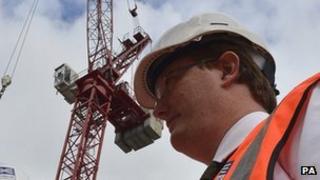 More money should be borrowed by the UK government to increase spending on infrastructure, political leaders in Wales, Scotland and Northern Ireland have urged.
Their finance ministers want the UK to take advantage of low interest rates.
The Welsh government fears cuts when Chancellor George Osborne announces his spending review on Wednesday.
Finance Minister Jane Hutt said spending on infrastructure would create jobs and long-term economic benefits.
Together with Scotland's John Swinney and Northern Ireland's Sammy Wilson, she has written to Treasury Secretary Danny Alexander to call for bigger capital budgets over the next two years.
'Positive contribution'
The money should come from borrowing, not cuts to services, they said.
Mrs Hutt said: "We have a range of priority infrastructure projects which can be brought forward to make use of additional resources and make a positive contribution to growth in the UK economy.
"We are now urging the UK government to do all in their power to support the work we are undertaking by boosting our capital budgets to allow us to invest in the infrastructure we need to boost growth and create jobs."
Mr Osborne wants to find a further £11.5bn in savings from UK government departments in 2015/16. The budgets for day schools and the NHS in England, together with overseas aid, will be protected.