Council housing deal could save £33m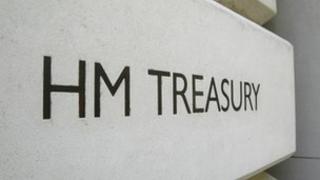 Eleven Welsh councils could save £33m a year towards their housing budgets after a deal struck with UK and Welsh ministers.
The councils will no longer have to pay around £73m a year to the Treasury from their income from rents.
They have been paying into a central fund which sees money paid back for housing maintenance.
The system, called the housing revenue account, was scrapped in England in 2012.
It is estimated the councils will save around £33m a year by instead paying a lump sum and taking on more debt.
Half of Welsh councils, who still own their housing stock, have still been paying into the HRA from money raised from rent on council homes and the sale of land or housing.
The system then reallocates the cash according to need, so local authorities with homes in a poor state benefited the most.
In a written statement, Welsh Housing Minister Jane Hutt said authorities would take on more debt to fund the settlement and a cap would also be imposed on their housing-related borrowing.
She said: "We have managed to negotiate the level of the debt cap which will allow local authorities to continue to invest in their housing stock in line with their current housing business plan commitments.
"Local authorities will have more to spend on bringing their homes up to the Wales Housing Quality Standard which will bring real and tangible benefits to their tenants."
'Flexibility'
Chief Secretary to the Treasury Danny Alexander said: "The agreement reached will provide Welsh local authorities with the flexibility they need to manage their own housing revenue, while ensuring that any reform is fiscally neutral."
Opposition parties in the assembly have previously expressed concern about the scheme, saying up to a billion pounds has been paid in which could have been directly spent on improving housing in Wales.
A report by the assembly's public accounts committee found Wales' social housing stock of around 221,000 homes was failing to meet minimum standards.
Eleven councils have transferred control of all their housing stock to housing associations.
The other 11 that still own stock and which pay into the HRA are: Flintshire, Vale of Glamorgan, Caerphilly, Swansea, Wrexham, Cardiff, Carmarthenshire, Denbighshire, Anglesey, Pembrokeshire and Powys.