Welsh government website offers advice on stripping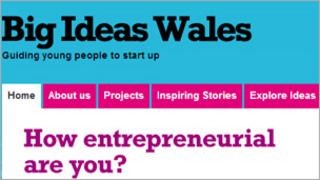 An investigation is to be held into why a Welsh government website offered young people advice on how to become strippers and set up escort agencies.
First Minister Carwyn Jones faced AMs questions about the entrepreneurship website Big Ideas Wales.
Liberal Democrat Eluned Parrott asked if ministers should promote such "career opportunities" to young people.
Mr Jones said he had not been aware of the advice and would ensure there was a "full investigation".
Ms Parrott told Mr Jones at first minister's questions: "I've been looking at the Welsh government's Big Ideas Wales website, which describes itself as 'Guiding Young People to Start Up'.
"On the page 'Useful Guides to Turn Ideas into Reality' it links through to a series of fact sheets including how to set up your own escort agency, how to set up your own lap dancing club and how to become a stripper.
"Now these are of course legal enterprises, but are they, do you think, the kind of aspirational career opportunities that the Welsh government should be actively promoting to young people?"
Mr Jones replied, "No. I was made aware of this some ten minutes before I came into the chamber and I will ensure there is a full investigation into how this happened."
The section of the website containing the advice has already been taken down.