Sky lantern and balloon ban rejected by Welsh government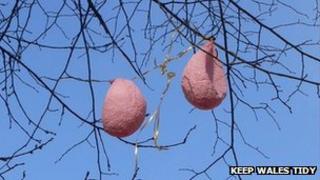 A ban on the use of sky lanterns and helium balloons cannot be justified despite concerns from environmental groups, says the Welsh government.
The Marine Conservation Society and Keep Wales Tidy had called for an outright ban.
Conwy council was the first in Wales to ban them on its land saying usage had increased and some did not decompose.
A report to politicians on Thursday said while such a ban could not be justified, use would be discouraged.
Alun Davies, Minister for Natural Resources and Food, said independent research showed the risk to livestock, plants and the environment was low.
"Given these findings, it would be difficult to justify a ban on either sky lanterns or helium balloons," he said.
"However I remain concerned about the issue and will continue to work closely with our partners, in particular Keep Wales Tidy, to ensure that impacts of sky lanterns and helium balloons are minimised."
He said the report found that the risk of fire from sky lanterns - mainly to agricultural crops, buildings and moorland - was "significant".
Farming unions have previously highlighted the risk the lanterns pose to animals and farm buildings, while fire service bosses have also warned of the dangers.