Ex-boss Stuart Rosser reappointed Caerphilly's interim boss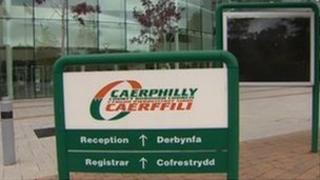 Former chief executive Stuart Rosser has been brought back in as interim boss of Caerphilly council.
He left the authority in 2010 but now replaces Anthony O'Sullivan, who, with his deputy, is suspended as police investigate pay rises for senior staff.
Mr Rosser, the only applicant, will start work immediately.
The council accepted his request to work three-and-a-half days a week, for which he will be paid roughly £90,000 a year.
That is a proportion of his old salary of about £131,000.
Mr Rosser would earn more, pro rota, if the council needed him to work more hours.
Council leader, and leader of the Labour group, Harry Andrews, declined a BBC interview but said in the chamber that Mr Rosser's appointment was an "excellent outcome".
Review appointment
"He has made an enormous contribution to the council in the past since its inception," he said.
"We were urged to take action and we certainly did that."
Cllr Colin Mann, leader of the opposition Plaid Cymru group, welcomed the appointment but said he was "very concerned" the job was advertised with an annual salary of up to £158,000.
The council will review the appointment after six months.
There had been concerns the interim chief executive could be paid the same salary which sparked the dispute, as the council had planned to set the wage based on a £142,524 to £158,360 pay scale.
There were widespread protests when Mr O'Sullivan's pay increased from £127,653 to £153,071.
Mr O'Sullivan and deputy chief executive Nigel Barnett have been questioned by Avon and Somerset Police amid claims "secret" pay rises were awarded to 21 senior council bosses.
Police were called in after a Wales Audit Office (WAO) report said the council had acted unlawfully.
Mr O'Sullivan's pay increase led to protests by staff and trade unions and an apology by Labour councillors on the authority.
The council reversed the decision in January and cut Mr O'Sullivan's pay rise to £5,000.
As a result, WAO said it had decided not to seek a court ruling.
Caerphilly, like other local authorities, has to make millions of pounds of cuts and staff have had their pay frozen for three years.