Anglesey election: Six candidates with seven days to win votes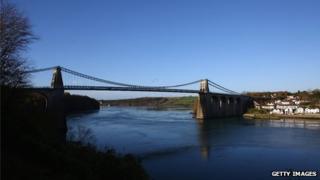 As the featured county at this year's Royal Welsh Show, Anglesey has been the centre of attention in the agricultural world.
Focus will now shift as the show in Llanelwedd draws to a close, but the county remains in the political spotlight.
A week today voters on Anglesey will go to the polls to elect a new assembly member.
The by-election has been triggered by the surprise early departure of Plaid Cymru's Ieuan Wyn Jones.
He has been Ynys Môn's representative since the formation of the Welsh assembly, but now there are six candidates campaigning to take up the baton.
Hoping to maintain Plaid Cymru's grip on the seat at assembly level is the former BBC journalist Rhun ap Iorwerth.
With jobs and the economy the priority for each of the candidates, the future of nuclear power is central to the campaign.
The current Wylfa power station is coming to the end of its operational life but there are plans for a replacement.
Economic priorities
Competing parties criticise Plaid Cymru for supporting the policy locally while opposing it nationally.
Mr ap Iorwerth said: "The decision on the new nuclear plant at Wylfa is made at Westminster rather than in Wales.
"However, we must ensure that the people of Anglesey are able to compete for those jobs and local firms are able to compete for contracts.
"But we can't put all our eggs in one basket. We must also be looking at taking advantage of key sectors such as engineering and electronics as well as giving support to our more traditional industries - tourism, construction and food production."
Labour, who hold the seat at a Westminster level, have been keen to express their unreserved commitment to nuclear power.
Tal Michael, son of former First Minister Alun Michael, is the party's candidate.
Impact of cuts
Despite being in power in Cardiff Bay since the assembly's inception, Mr Michael dismisses claims that it is accountable for the island's poor economic performance.
"I think the biggest impact has been the UK government's austerity programme," he said.
"What we need to do with the Welsh government and the Welsh assembly in Cardiff is make sure that we are improving public services, that we're making a difference through things like Jobs Growth Wales and that we've got to focus on improving things, but it's very hard while the UK government's austerity programme continues."
First Minister Carwyn Jones will have visited the campaign three times before polling day - an indication of how important he and the party considers the by-election.
Victory would give his party a clear majority in the Welsh assembly where it currently holds exactly half of the 60 seats.
Immigration control
Offering the promise of a clean break with the traditional parties is UKIP's Nathan Gill.
The local businessman says that immigration is a regular concern he hears on the doorstep.
Mr Gill said: "One of the main things that we're hearing that the other candidates won't tell you about is that people are, believe it or not, concerned about immigration... people do see that there is a threat nationally by unlimited, uncontrolled immigration.
"We've just got to be sensible about this. We're not anti-immigration, but it needs to be regulated and controlled."
Mr Gill was joined earlier in the week by the party's leader Nigel Farage.
As well as the obligatory photo opportunity in a local pub, Mr Farage held a public meeting in Holyhead attended by 150 local residents.
Despite a promise from the blue side of the Westminster government to hold a European referendum, Mr Farage is not the kind of person to take lessons from the Conservatives.
Neil Fairlamb, the Conservative candidate on Ynys Môn, is the exception.
Many pupils passed through Mr Fairlamb's classroom during his 20-year teaching career at London's Dulwich College, including a 12-year-old Nigel Farage.
Vote splitting
Now the Rector of Beaumaris, the Reverend Neil Fairlamb, is concerned about the potential impact UKIP could have on the Conservative vote.
Mr Fairlamb said: "We are dealing in a by-election not only with protest against the assembly but protest against Westminster and we're dealing with the negative appeal of UKIP, sadly, I mean it is a one-issue party.
"But on the doorstep I find people very willing to accept that we cannot go down the road of more and more dependency on the state.
"We have to get a business initiative not only in the economic life of our towns but in people's willingness to take more responsibility for themselves."
Coalition partners at Westminster, but the Liberal Democrat candidate Steve Churchman is ploughing his own furrow on Anglesey.
Cardiff Bay view
He has lost a stone in weight and worn through a pair of shoes pounding the island's streets to convey his message.
"I believe that the problem with the assembly government is that it's too much M4 corridor," he said.
"This part of Wales is too far away from Cardiff and it seems to be forgotten all the time and I think we need an assembly member who is prepared to stand up and make this area be heard."
The Lib-Dem candidate runs a post office in Gwynedd where he is county councillor, but he is not concerned that his off-island status will play negatively.
"No I don't think it will make a huge difference because I'm not from the area that I was elected to represent either," he said.
"I've managed to make that breakthrough there and I've been re-elected twice since winning my seat in 2004.
"People know my track record, I'm hard-working within my community and I think that that will stand me in good stead."
Tax avoidance
The only candidate fully opposed to the construction of Wylfa B is the Socialist Labour Party's Kathrine Jones.
Ms Jones said: "All the other parties are pro-Wylfa B and they say jobs. Well, we say you can't hide behind Wylfa B to provide jobs.
"The answer is in the socialism and it's in the fact that there is public money and that there is £120bn of tax avoidance - that can provide full employment and should."
This will be the second time in three months that Anglesey voters have been to the polls following May's delayed council elections.
Turnout is expected to be low as a result of voter apathy.
Candidates have until 1 August to engage the island's electorate.
A full list of candidates can be seen here.