Peerages for ex-AMs Nick Bourne and Christine Humphreys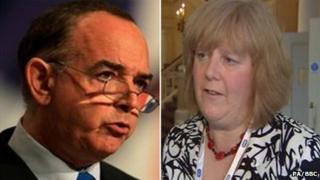 The former leader of the Conservatives in the Welsh assembly Nick Bourne is to be elevated to the House of Lords in a list published by Downing Street.
Mr Bourne, a lawyer who lost his seat in the 2011 assembly election, is currently chair of the Haven Waterway Enterprise Zone in west Wales.
Welsh Liberal Democrats' president and ex-North Wales AM Christine Humphreys will also be made a working peer.
She said she was "thrilled" to be joining a "strong team" in the Lords.
Mr Bourne said he did not have a "blueprint" for being a member of the Lords, but added: "I will certainly want to make my voice heard".
"I will certainly want to speak up on Welsh interests," he said.
"I had the conversation [about a seat in the Lords] with the prime minister after the election.
"It was good of him to call, good of him to suggest it and I was pleased.
"I saw it as an opportunity to contribute something on a continuing basis."
'Powerful voice'
Mr Bourne was congratulated by his successor, Andrew RT Davies.
Mr Davies said: "This is well-deserved recognition of over a decade of Welsh public service as an assembly member and leader of the Welsh Conservative group.
"Nick continues to serve Wales in his roles on the Silk Commission (on further assembly powers) and the current review into the delivery of public services.
"Nick will be a powerful voice for Wales in the House of Lords and I look forward to working with him."
Welsh Liberal Democrat leader Kirsty Williams said she was "really pleased for Christine" who had "played a huge role in the Welsh party".
The names were amongst 30 peerages announced by Downing Street on Thursday on the first list of working peers since November 2010.
In that previous list there were three new Welsh party political peers - Liberal Democrat Baroness (Jenny) Randerson, Lord (Dafydd) Wigley from Plaid Cymru and Baroness ((Eluned) Morgan for Labour.
In addition, Lord German was ennobled in the dissolution list of May 2010.