Plaid Cymru chair Helen Mary Jones to stand down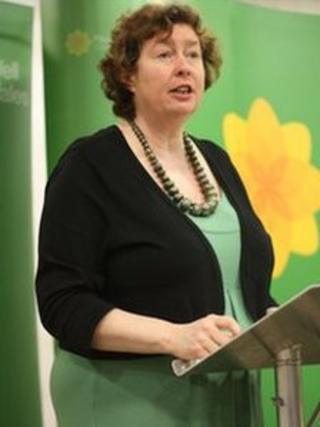 Helen Mary Jones will stand down as Plaid Cymru's chair at the party's conference in October.
The former AM will not seek re-nomination for the post she has held since 2011.
Plaid said Ms Jones felt it was difficult to continue in the role while also doing her day job as chief executive of the charity Youth Cymru.
Ms Jones was an AM from 1999 until the 2011 election when she narrowly lost the Llanelli seat to Labour.
In an email to party members she reflected on a "very exciting" two years for Plaid, which included the election of leader Leanne Wood and the recent by-election victory in Ynys Mon.
"I have been really proud to play my part as national chair in supporting all those who have worked so hard to make all of this possible," she said.
"I have decided not to stand for re-election when my term of office comes to an end at conference as I need to concentrate on my career and my family for a while."
Plaid will chose a new chair at its conference in Aberystwyth.
Ms Jones lost her seat to Labour's Keith Davies by just 80 votes at the last assembly election.
She told BBC Wales she had no intention of putting her name forward as a candidate for the next general election, despite being asked to so.
"If I do return to the frontline - and it's by no means sure I will - it would be looking to the assembly rather than going to Westminster, but that's yet to be decided," she said.