Owen Smith backs Ed Miliband's refusal to apologise over Falkirk row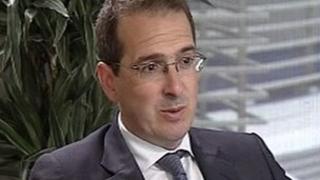 The shadow Welsh secretary has backed Labour leader Ed Miliband over his refusal to apologise to union members cleared of rigging a selection process.
Pontypridd MP Owen Smith told BBC Radio Wales Mr Miliband had made a "courageous and right decision" over the Falkirk seat selection process.
Unite members were investigated after claims they tried to sign up members without their knowledge to ensure their preferred candidate was selected.
Labour's report cleared them of blame.
The incident prompted Mr Miliband to announce changes to Labour's relationship with the unions, which would see union members asked if they wanted part of their union fees to go towards supporting Labour, rather than it happening automatically.
Mr Miliband has said he still plans to press ahead with the move despite the result of the Falkirk inquiry.
Mr Smith told BBC Radio Wales' Sunday Supplement programme: "The leader of the Labour party made a courageous and right decision to look at those allegations and make sure they were investigated properly and allow due process to be followed."
Despite the fact that "no improper behaviour" was found, he said: "Out of all this we have not changed our view and Ed Miliband has not changed his view that we need to change the nature of our relationship with the unions."
Asked whether Mr Miliband had pre-judged the inquiry by announcing the changes before the result of any inquiry, Mr Smith said: "Some of the evidence has changed and some of those affidavits have been withdrawn and therefore there is a changed understanding of what went on.
"The Labour Party has decided there are no charges to be levelled and no questions to be answered by the individuals who were suspended from the party. Nevertheless Falkirk CLP [constituency Labour Party] is still in special measures."
He backed Labour's decision not to issue an apology to those concerned.
"I don't think we should [apologise] because there were appropriate actions taken by the leader of the Labour Party when there were serious allegations being levelled about the way in which the selection procedure had been carried out."
'Seize the moment'
Mr Smith denied that Mr Miliband had "panicked" over union links following the allegations, adding: "I think we've got a leader of the Labour party who is brave and courageous and far sighted in many instances during his short period as leader of the Labour party.
"I think looking back we will think this is another one of these instances where he chose this to seize the moment.
"He chose to use this to implement his vision of what the Labour party needs to become."
The Labour report into the allegations said neither Kate Murphy, the candidate in question for selection, nor Stevie Deans, a fellow Unite member who was chair of the local Labour Party, had been found guilty of any wrongdoing and they would be reinstated as members.
Nevertheless, Ms Murphy has withdrawn as the prospective general election candidate for the sake of party "reconciliation and unity".
Labour has refused to make the report public.
Unite general secretary Len McCluskey has said he is delighted the union has been "vindicated" over Falkirk vote-rigging allegations.
"Right along, we said that Unite had done nothing wrong and I'm pleased now that the Labour Party have actually indicated that no wrongdoing took place."