TV boosts Wales' shellfish industry revival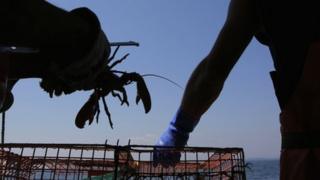 For more than a century, Wales' shellfish industry was in decline due to pollution and changing tastes.
But in the last three years, the British Shellfish Association has reported a 10% growth in the industry, estimated to be worth £60m a year.
Plans have gone ahead for an oyster bed in Swansea not used since the 1920s to be repopulated, and products on offer from Wales have become more diverse.
However experts warn that more needs to be done to prevent pollution.
Earlier in September, for the first time since over-fishing and pollution wiped them out a century ago, a Swansea-based marine biologist was given permission to reintroduce young oysters to the beds which gave Oystermouth its name.
But the industry is growing ever bigger and more diverse, ranging from prawns off Pembrokeshire to Great Orme lobster.
Sales of mussels grown in the Menai Strait and off Conwy now outnumber the cockles harvested by a ratio of almost two-to-one.
Llandudno's Christopher Owen - who was the Welsh culinary association's chef of the year for 2012 - believes TV cookery programmes have brought shellfish back into culinary fashion.
"Ten years ago it was pretty impossible to source locally-grown seafood other than cockles and mussels - not that it mattered, because no-one wanted to order it in any case," he said.
"But today people are watching more and more cookery programmes and becoming aware of the fantastic range of shellfish they could be enjoying.
"My customers can't get enough of it now. It's by far our biggest seller," he added.
Wayne Jones, manager of wholesalers Mermaid Seafood in Bangor, said it had taken the industry a while to catch up with the public.
"Wales has always had fantastic conditions for all sorts of shellfish: Nice coves, shallow estuaries; a good flow of water from the Irish Sea, Atlantic and Bristol Channel; and big tidal ranges," he said.
"The thing was nobody wanted what we could harvest.
"Years ago we used to clear other shellfish away to make room for cockles and mussels.
"It started to become commercially viable when customers became concerned about the environmental consideration of farmed shellfish, and demanded locally-caught produce.
"Plus many of the people I speak to are moving to plentiful shellfish because of the over-fishing of cod and other white fish.
"My local chip shop is selling lobster faster than I can get it to them," he added.
Yet Prof Mike Kaiser from Bangor University's School of Ocean Sciences warned that the picture was not all positive.
"There is still a particular issue with cockles from the Burry Inlet dying prematurely before they can be harvested," he said.
"There are many theories why this may be happening but as yet nothing has been proven.
"Other than that the industry is very healthy but the fishermen need help to keep it like that."
He explained that seawater purity was divided into A, B and C standards.
And whilst the majority of the Welsh coast is rated A, too many sewers were still being allowed to overflow into the sea.
"There is an issue in bad weather when sewers flood which means that in the Menai Strait in particular the water quality can dip to the B standard," he said.
"The fish caught there is perfectly safe but can't be eaten raw.
Poor water quality
"Plus supermarkets won't take any chances these days, so mussel growers in Wales find themselves in a ridiculous position... before they can sell it.
"They have to ship their catch to Holland in order to purge the impurities in the Dutch A-standard waters."
But one Swansea producer thinks he may have come up with the answer.
After years of regulations and poor water quality hampering his attempts to harvest enough mussels to meet demand, Colin Thomas has begun growing them on ropes in the once-filthy Swansea Docks.
"I just got fed up of the red tape of harvesting from the sea floor. The rules change every week it seems," he said.
"So I started looking for somewhere to farm mussels instead, and discovered to my amazement that the docks which used to be black with coal and oil now has some of the purest water in Wales - pollution of 20 parts per million when the EU A-standard is 240 parts.
"The rope technique used to be used a great deal in Shetland and the west of Ireland, but it fell out of favour for some reason.
"We introduced 20,000 seed mussels to the rope and in water this pure with controlled feeding, they mature in a year compared with two in the wild.
"Then all you do is pull out the rope when they're ready.
"We've just had our first harvest of 60,000 and are on course to be producing three-quarters of a million mussels a year by 2016.
"Seafood can be a boom industry for Wales going forward but producers need to think creatively, and the authorities need to give us a hand by doing something about water quality and cutting back on red tape."