UKIP policy change on Welsh assembly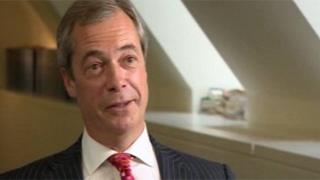 "Right, who's next?"
Nigel Farage is part of the way through a day which will eventually see him doing 24 interviews ahead of the UKIP Conference in Westminster.
In fact, by the end of the day he'll be defending himself against accusations that he was a racist and a fascist during his school days at Dulwich College in the early 1980s, but he doesn't know this yet.
It is also a full 24 hours before the conference is overshadowed by a row involving UKIP MEP Godfrey Bloom, which led to the party whip being withdrawn.
As he's doing so many interviews I remind Mr Farage that I'm from BBC Wales so he has some idea what I might want to talk to him about - and he tells me about a summer spent on Anglesey campaigning in the Ynys Mon by-election.
He's also keen to tell me about the excellent sea fishing off the Lleyn Peninsula.
I'll take his word for it - my fishing experience ended after a fruitless afternoon at a trout farm near Caerwys in Flintshire in the late 1980s.
We start the interview - I have to be brisk as I'll be replaced by the BBC Southampton reporter in exactly five minutes.
I ask him if his party still want to abolish the Welsh assembly, and he gives me an equally brief reply.
"No," says Mr Farage.
"This was old UKIP thinking - we should pretend devolution isn't happening and shouldn't be happening and under my leadership that has very much reversed.
"Devolution has happened and there are two referendums in Wales that have confirmed that, so we should just jolly well get on and accept the fact that the whole of the United Kingdom is changing.
"We're moving towards a more federal model, that doesn't mean that we can't ask for more devolution in the sense that there are maybe powers in Cardiff that could go out locally but, no, we accept it."
Earlier this summer the UKIP MEP for Wales John Bufton threatened to set up a new political party to campaign for the abolition of the assembly if UKIP officially changed its policy.
"Well, very good luck to him." said Mr Farage.
'Phenomenal opportunity'
"UKIP's been going 20 years. It's taken us 20 years to get where we are. If anybody thinks you can just head off and form a new political party, and it's an easy thing to do, they've got another thing coming."
During his conference speech on Friday Mr Farage promised that UKIP would cause a "political earthquake" in the elections to the European Parliament next May. He expects the party to top the polls across the UK - and that includes in Wales.
"I honestly think that we've got a phenomenal opportunity next year in a European election to send this very, very strong message," Mr Farage added.
"It's 40 years ago that people were asked the European questions.
"My parents generation we're asked about a common market, it's now a political union. It's high time we had another go. And for that reason I think we could well surprise people in Wales."
The Sunday Politics is on BBC One Wales at 13:30 BST on Sunday.