How will Welsh councils save cash?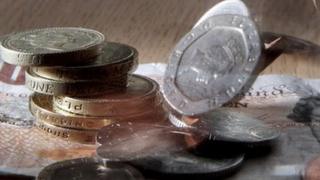 The total amount of cash available to councils around Wales to pay for services such as bin collections, libraries, leisure centres and public toilets has been announced by the Welsh government.
It was announced last week that funding for local government would see a cut of 5.81% next year.
Local government spending will fall from £4.648bn this year to £4.466bn next year, a cut in cash terms of 3.91% or 5.81% in real terms.
Their budgets will be around 9% lower in real terms between now and 2015-16.
So how are Wales' 22 local authorities going to deal with budget shortfalls:
ANGLESEY
Council leader Ieuan Williams said: "We now anticipate that the council will face cuts in the region of £7-8m and cuts of this magnitude will hit the authority hard.
"It's more than likely that we'll again be forced to raise Council Tax by the maximum 5% with a smaller percentage increase unsustainable."
Finance portfolio holder Hywel Eifion Jones added: "The reduction in funding for Anglesey of -4% against a Welsh average of -3.5% seems most unfair given our high levels of elderly and unemployed residents.
"The provisional settlement is disappointing news from the Welsh government and bound to have a significant effect on the level of Council Tax and future services.
"We'll shortly start consulting with fellow councillors and the public regarding their priorities, but clearly some services will need to be provided in a different way in the future."
Anglesey chief executive Richard Parry Jones said: "We'll now have to assess the significant impact that the settlement will have on our capacity to provide services.
"The council's heads of service are currently working on initial recommendations for efficiency savings, and these will have to be prioritised by our elected members in due course.
"We also, of course, intend to consult widely with stakeholders and partners as part of the process of formulating the council budget for 2014/15.
"The decisions will be difficult and it is inevitable that we will have to curtail services to the people of Anglesey."
BLAENAU GWENT
BBC Wales news website is awaiting a response from Blaenau Gwent council.
BRIDGEND
Mel Nott, Leader of Bridgend County Borough Council, said: "It is now inevitable that we face having to make some very difficult decisions.
"This will obviously have a huge effect on council services, but we are preparing for the challenge by making changes that will move the authority away from some of the more traditional activities and structures associated with local government.
"The council has a medium-term financial strategy in place which is ensuring that we prioritise and focus our available resources efficiently and in a co-ordinated manner.
"We need to fundamentally alter the way in which the council works, spends money and makes use of resources, so in future there will be a greater focus on innovation, shared services, lower costs and collaboration.
"However, there should be no illusions about the reality of the situation that we face, nor the pressing need to start looking at making savings in areas that we have previously tried to protect."
CAERPHILLY
A spokesman for Caerphilly council said: "We are going to have to make some very difficult decisions in the wake of this extremely tough budget announcement.
"Even though the situation is very challenging, Caerphilly is in a good position compared to some other Welsh local authorities and this is largely down to the sound financial strategy adopted by the council over the last few years."
Councillors will consider the budget settlement on 23 October.
CARDIFF
The council needs to try and bridge a budget shortfall of £125m over the next three years.
Among its plans, it will reassess the way grants are awarded to ensure there is greater fairness in funding decisions and better service delivery based on requirements and community priorities.
The council currently provides £2.7m in grant funding to a wide range of third sector organisations but says many grants are historic with no clear indication of strategic need.
It is considering new ways of delivering services which include merging departments and collaborating with other councils.
However it has warned that it is considering "drastic measures" such as service reduction and even ending some services completely.
Its budget proposals are being prepared over the next few months before going out to public consultation.
CARMARTHENSHIRE
Next week, all members of the council will be invited to discuss around 60 proposals for efficiency savings to bridge the funding gap Carmarthenshire faces, before a large-scale public consultation is launched.
Council leader Kevin Madge has already warned people to brace themselves for change, and has acknowledged that members will be faced with making tough and unpopular decisions over the coming months.
Now, he is calling on all 74 members of the council as well as community and voluntary groups to work together to ensure as many services and jobs can be protected.
"This is one of the toughest settlements we've ever had," he said.
"We've already tightened our belts and made significant efficiency savings in the last few years, which is why it's going to be hard to cut back further.
"However, by working together with our communities, we will stand a better chance of protecting front-line services and jobs.
"I also call on every member of council to work together, similar to how they've worked together in Welsh government where they've put their political differences aside to move forward and set a budget."
Earlier, a spokesman for Carmarthenshire council said: "We are holding an elected members seminar shortly which will set out the council's financial position, and give members the opportunity to discuss and consider up to 40 separate options and proposals for savings.
"Over the coming months, consultation will also involve the general public, local businesses and stakeholder groups.
"Until this exercise has been undertaken, we can't say exactly what services will be affected."
CEREDIGION
A spokesperson for Ceredigion Council said the authority will be facing a reduction in funding from the Welsh Government of 4.6%, which is a cash reduction of almost £5m.
That reduction is before taking into account the need to increase the existing budget for inflationary increases, additional funding for implementing national pay awards, and budgetary pressures on existing services, which means that the council will need to identify budget savings in the region of £9.5m for 2014/15.
Councillor Ellen ap Gwynn, leader of the council, said: "This is the worst ever financial settlement for Welsh Local Authorities and in particular for Ceredigion by some margin.
"It is an unprecedented situation for all Welsh local authorities, but is especially challenging for rural councils such as Ceredigion.
"We will have to make some very difficult decisions over the next few months as we try and minimise the impact on the existing services, and we must accept that some services will need to be reduced or even cut."
CONWY
In a report, the local authority said: "Conwy's financial framework for the period 2012 to 2017 highlighted an extremely challenging financial landscape which predicted an annual resource shortfall of around £5m per year for the financial years covered, even after council tax increases of around 5% per year.
"Indeed 2014/2015 projected a shortfall of £4.5m with warnings that 2015/2016 and 2016/2017 were likely to be at similar levels ie 'more of the same'."
DENBIGHSHIRE
A spokesperson for Denbighshire Council said: "Denbighshire council has been expecting a difficult budget settlement and we have been preparing for it.
"The reduction of 4.6% is on the more severe end of what we have been planning for and it will require the council to take some difficult decisions.
"Options for reductions are now being developed for elected members to consider during their deliberations over the next few months.
"Final decisions on the 2014/15 budget will be taken in the new year.
"The council is committed to delivering excellent services and maximising efficiencies from everything it does will be its key response to this settlement.
"On the positive side the council welcomes the apparent relaxation of 'ring fencing' rules for a number of grants and budget areas.
"We haven't had the time to analyse the figures carefully yet, but it seems that the council will be able to look for efficiencies and savings from a wider area than was possible in 2013/14 and this is to be welcomed."
FLINTSHIRE
The council's initial reaction to the local settlement is:
the total loss of Revenue Support Grant (RSG) is in the region of £7m as predicted
this means that our funding reduction target of £15-16m for 2014-15 remains broadly the same
while the settlement includes a significant contribution to the costs of the Council Tax Replacement Scheme, which supports Council Tax benefit, demand for benefit continues and the full cost to the council will be much greater than the Welsh government contribution
the council shares with Welsh government treating education as a priority. We aim to protect investment in schools as far as possible in this new budget climate
a reduction of RSG for local government of 1.73% in the following year 2015-16 will pose further challenges but any step towards reprioritising local government after 2014-15 is supported
Council leader Aaron Shotton said: "The provisional settlement is as predicted. The task ahead is to plan significant and rapid change within the council to make major savings to balance the books for 2014-15 and protect local services to the best of our ability.
"It is important that we are not hit by any reductions in the specific grants from Welsh government which support day to day services from education to recycling.
"These grants are normally confirmed long after the settlement and we do not want unexpected 'devil in the detail'.
"We cannot absorb a double financial 'hit' in a matter of months.
"Flintshire is a stable and well performing council - we now have a major job on our hands to hold that position."
The council is looking to reorganise and reduce the cost and complexity of management as well as a phased reduction in workforce numbers.
A spokesman said before the budget announcement: "The way the council will have to change and become even more modern will remain underpinned by protecting and developing the most important public services in communities, being as modern and high performing as we can in customer services and being as efficient and cost effective as possible."
GWYNEDD
A spokesman for Gwynedd Council said: "At present, we estimate that we could be facing a £16m funding shortfall in 2014/15.
"Thanks to long-term financial planning, we have already identified over £6m of savings to help bridge this gap, and we estimate that other potential measures identified will lead to an additional saving of around £6m.
"This means that we will need to deliver a further £4m during the year.
"We are looking at a number of possible options to mitigate the demand for our services, and carefully weighing up the possible savings that could be achieved against the potential negative impact upon the county's residents."
MERTHYR TYDFIL
Councillor Brendan Toomey, the leader of Merthyr Tydfil council, said: "Like the other 22 council's across Wales, Merthyr Tydfil CBC had already started to plan for how we would meet our budget deficit for 2014/15.
"While originally working on a - 4% budget cut, in real terms £6.1m deficit, we are now looking at an actual deficit of £3.5m.
"Whilst the 2.2% is better than expected, this council will still have to make some very serious and unprecedented cuts which will mean that the services that we deliver to the people of Merthyr Tydfil will look different within the next three to five years.
"As always, we will continue to work extremely hard in order to protect the most vulnerable in the community whilst also protecting as many staff within the organisation as possible."
MONMOUTHSHIRE
Peter Fox, leader of Monmouthshire County Council, said: "We are disappointed but not surprised that we have seen a provisional cut of 4.4% in our annual settlement from the Welsh government.
"Although it is slightly worse than we'd been led to believe, we have for some time been planning for a cut of around this level.
"We have managed a significant year-on-year decline in our funding for some time now, against a backdrop of our being Wales' lowest funded council per head of population.
"We have already taken significant steps toward addressing this shortfall in our funding.
"We are currently meeting directly with our communities, and cabinet has already mandated officers to explore proposed savings of £6.5m, although we are mindful that this would not be sufficient to meet next year's cut.
"We will continue to work hard to address next year's shortfall and the projected shortfall of £23m over the next four years."
The council has already outlined plans to make £6.5m in savings and will hold a number of public engagement meetings in the county over the next two weeks.
Among the areas where savings could be made is school transport. The authority is considering reviewing its school transport arrangements based on nearest school policy.
It is also considering reducing grants to the third sector and transforming adult social care and children's services.
Reductions to cleaning rounds and gritting schedules could also be introduced as well as street lights being switched off.
Five public consultation sessions are to be held about the matter and the council has scheduled that the proposals will be concluded by the end of November 2013 with a special cabinet meeting on 18 December.
NEATH PORT TALBOT
A spokesperson for the council said: "We will be looking at the details of the draft settlement and preparing a report for cabinet on our options for savings for members to decide upon."
A spokesman said it had developed a forward financial plan which identified the need for £23m savings over the next four years (this is on top of £30m savings over the past four years).
A report will be prepared for members regarding the specific impact of the settlement and what the options will be.
A spokesman for the council said it also has a report out to consult on proposals for its library provision for savings of up to £238,000.
NEWPORT
A spokesperson for Newport City Council said that as expected it would "once again receive a cut to its revenue budget from Welsh government".
"The council fully anticipated a reduction and has been making plans to change the way it delivers services with less money and an increased demand," said the spokesperson.
"The council recognises it still has to make significant savings and is faced with the task of redesigning public services as set out in the recently published 'Prospectus for Change'.
"The next few years will be extremely difficult and the impact on services will be profound.
"Residents can already submit their comments and ideas for improvement by emailing changing.services@newport.gov.uk.
"A full public consultation on budget proposals will be launched later this year."
PEMBROKESHIRE
Reacting to the settlement cut leader Jamie Adams, said that his authority faced severe challenges in common with other councils in Wales.
"As I have previously said, we have to accept that local authorities are not immune from the cuts and we have a part to play in the belt-tightening process during these straitened times," he said.
"However, when we do make the difficult decisions that we will undoubtedly face, we will do our utmost to ensure that front-line services and the vulnerable are protected as much as possible.
"I believe that as we are an authority which is on a firm, financial footing we are able to meet and resolve these challenges.
"The council's cabinet will be receiving a comprehensive report on the implications of the Budget at its 4th November meeting."
The council has said it will be moving to fortnightly black bin bag collections to save £500,000 a year.
It is also planning to reduce the number of public toilets it is responsible for - there are currently 93 public toilets in Pembrokeshire costing the council £1.5m a year to run. Seven are earmarked for closure.
Mr Adams has said it was inevitable that Welsh government cuts in funding to local government would have repercussions on the authority's future spending.
"We have to accept that, as a local authority, we too have to play a part in the belt-tightening process during these straitened times.
"However, when we do make the difficult decisions that we will undoubtedly face, we will do our utmost to ensure that front-line services and the vulnerable are protected as much as possible," he said.
POWYS
Powys says it will face a cut in funding of nearly £9m in the next financial year along with increased "service pressures" of £11m leaving the county facing a funding shortfall of £20m for 2014/15.
Leader David Jones said: "Powys has once again fared badly with its annual budget allocation with a 4.6% cut in funding - jointly the largest in Wales and well above the Welsh average cut of 3.5%.
"Powys has experienced below Welsh average funding for five out of the last six years and that poor funding trend has continued greatly increasing the pressure on providing local services. There are also early indications that there could be a further cut of around 2% in 2015/16.
"We are grateful that there has been some protecting provided by Welsh government otherwise the news could have been even worse.
"This year we received £190.6m external funding from Welsh government but that figure will be reduced to £182.2m next year. Added to that the council is facing increasing demand for services and unavoidable costs that could add a further £11m added to our operating costs.
"Providing viable public services with such reduced budgets will be a huge challenge, particularly since the majority of our funding is used for 'protected services' - education and adult social care.
"The remaining service areas such as highways, waste, leisure and the arts, although hugely appreciated, will have to bear the brunt of very difficult budget decisions.
"We have already been forced to take unpopular decisions in response to the chill wind of austerity measures but I am afraid the coming years will see far more difficult debates and I hope that Powys residents understand our difficulties."
RHONDDA CYNON TAF
Council leader Anthony Christopher said: "Considering how significantly public sector funding to Wales has been cut by the UK government a settlement of this nature was inevitable.
"This council has already taken the very difficult step of bringing forward options on how we bridge the significant gap in funding we now face and is due to consider initial proposals next week.
"Based on the provisional information released today, as predicted the level of savings we will be faced with making over the next four years will now be above our original indication of £56m.
"Because the Welsh government has done its utmost to protect Wales' public services from the worst of the UK government's cuts, this is the first financial year that 'all' our communities will really feel the pain and the realities of the UK governments public sector funding cuts.
"Despite the severity of the decisions already being considered it is clear that further and even tougher decisions around the range and level of services we offer will need to be taken in the coming months.
"In my 25 years in local government I have never had to consider such a bleak outlook for public services.
"My colleagues and I know fully how the decisions we will need to take will impact upon the communities we represent, but faced with such significant reductions in funding we simply have no alternatives.
"In the coming weeks therefore the cabinet will be forced to consider further reductions and significant changes to the services we currently provide.
"Very clearly the austerity measures of the UK government are biting and the effects of Wales' funding being reduced by £1.6bn are set to become very apparent in our local communities."
Cabinet members at Rhondda Cynon Taf Council are due to meet next week to consider the first phase of a programme of cuts.
Under the proposals children in RCT will start full-time school a year later than they currently do in a bid to save £4.5m a year.
Closing 14 of 26 libraries in RCT could save £800,000 per year, while closing 10 out of 19 day centres could save £600,000 per year.
Proposed changes to youth services could save £2.2m while £300,000 could be saved by ending the delivery of meals on wheels at the weekend.
SWANSEA
Swansea council said the headline settlement figure of a 3.1% reduction in funding was broadly in line with expectations.
The council said it would be studying the Welsh government's figures in detail but expected overall that it would have to make savings of £45m by 2017.
Apart from a reduced settlement, the council said it was also facing a range of funding pressures including rising customer expectation and increasing demand for adult and children's services.
Rob Stewart, cabinet member for finance, said: "We've already been consulting with local residents and most people I've talked to understand we are in tough times and the budget issue is a difficult position not of the council's making.
"This isn't simply about trying to save money. We have an opportunity to transform the council by finding better ways of doing things to improve the services we provide."
He added: "No decisions have been made yet because we are consulting with residents, stakeholders and staff to consider their views."
Swansea has been holding a consultation with residents called Sustainable Swansea.
Detailed budget proposals will be set out in December.
TORFAEN
The council predicts it requires savings of at least a further £40m over the next four years.
Cuts to school transport service, black bag collections and garden waste collections are being considered.
It has said making those savings is "no longer a case of trimming the edges" and has warned of difficult and uncomfortable decisions to be made.
The executive member for resources, Councillor Anthony Hunt, said: "We must look at the local services we provide, consider our priorities and look at how they impact on our desire to protect the most vulnerable people in our communities.
"Instead of burying our heads in the sand or making decisions behind closed doors, we want to be honest and open with people about the difficult situation and work together to find solutions.
"We want to hear from residents about which services they value most, what they could do without and what they'd be prepared to pay more for."
VALE OF GLAMORGAN
The council plans a number of joint working opportunities with neighbouring authorities and health boards including establishing jointly funded posts as part of its drive to plug the £25.7m funding shortfall.
It says any targets set will be extremely challenging for services.
It is due to meet to discuss proposals.
WREXHAM
Councillor Malcolm King OBE, Lead Member for Policy, Finance, Performance and Governance said: "There is no disguising the fact that this is very bad news for Wrexham.
"In previous years, the council has made millions of pounds of savings year on year and has strived to protect schools and social care.
"But the scale of the reductions contained in this announcement is unprecedented. It is very different to what the council have been planning for just a few months ago.
"Unfortunately the funding situation looks bleak for quite a few years to come.
"Although the challenge to find around £13m of cuts next year is very daunting, the longer term challenges are even more difficult."
With a shortfall of at least £34m over the next five years, Wrexham has pledged to take a "fundamental look" at all of its work so resources can be used as "effectively as possible".
The council has said: "This includes reprioritising and reducing services, ceasing services, considering alternative delivery models, working more effectively and efficiently with existing and new partners and eliminating waste.
"Reshaping is also to be focused on improving services as well as enabling delivery at a lower cost."
It plans to take a "package approach" to reshaping services saying that there was not a single project or single solution that will deliver the value of reductions required.
It said: "The overall approach is not about tinkering with what we currently do. There will be a requirement to take a fundamental look at areas like reprioritising and reducing services, ceasing some services altogether, considering alternative delivery models, working more effectively and efficiently with existing and new partners and eliminating waste. Reshaping is also to be focused on improving services as well as enabling delivery at a lower cost."
Areas the council are looking at in its ethos of the need to work differently include:
Looking at how many workers can be employed in a mobile way
Remove surplus accommodation
Reduce "employee-related" costs
Being "lean" reducing waste (in time/energy etc)
"Alternative delivery methods" for libraries and leisure centres
Schools - "the council will have difficulty achieving savings without efficiencies in schools"
More "innovative funding" for third and faith sectors