Extra 500 community support officers recruited, AMs told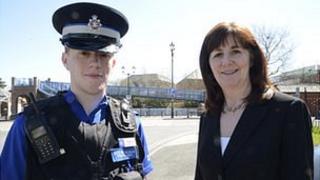 An extra 500 community support officers (CSOs) have now been recruited across Wales, assembly members have been told.
The announcement, by Local Government Minister Lesley Griffiths, fulfils a Labour 2011 election manifesto pledge.
She said 470 had been deployed and the remainder were in training and would be on the beat by the end of October.
The officers were helping tackle crime and making a "real difference" to communities, she said.
The CSOs had provided intelligence that led to drug seizures, supported crime victims and led anti-bullying campaigns, the Welsh government said.
"The benefits of these extra resources are already being realised - they have proven to be instrumental in increasing our accessibility to the public, addressing anti-social behaviour and providing greater reassurance to the public in those areas where it is really needed," said Ms Griffiths.
She said the posts were being funded with £40m over the three years from 2012-13, and money for a further year until 2016 was announced in last week's budget.