Presiding officer criticises Welsh Tory leader's Senedd review call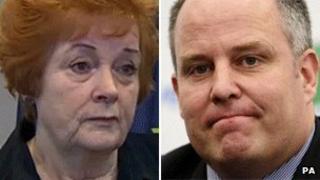 Assembly presiding officer Dame Rosemary Butler has criticised a call by the Welsh Conservative leader for a review of Senedd procedures.
Andrew RT Mr Davies called for Dame Rosemary to "get behind" a "wholesale procedural review".
But in a letter seen by BBC Wales she accuses him of expressing views that are "simply not correct".
A Tory source said: "The fact the media are getting letters before we are shows the need for a procedural review."
It follows a survey of AMs indicating many believe there are major problems with the way the assembly operates.
Out of 60 AMs, 34 responded to the Electoral Reform Society (ERS) survey with 24 answering nearly all questions.
Demand answers
Four out of five thought time in full assembly sessions was not used effectively and efficiently.
Around two thirds thought the executive too strong compared to the legislature, and 90% wanted a comprehensive review of assembly procedures.
No government ministers took part in the anonymous survey carried out over the New Year.
It also found just under 90% of AMs believe the presiding officer should have the power to demand answers from ministers in assembly sessions and there should be a formal requirement for ministers to provide prompt answers to written questions.
Writing in a blog, ERS Wales director Stephen Brooks backed Mr Davies's call for a sweeping review of assembly procedures.
"Only an increase in AMs can fully cure the assembly's ailments, but only an evangelical reformist would reject treating the symptoms in the meantime; which is why everyone should get behind Andrew RT Davies's call for a review," he said.
ERS has previously recommended that the number of AMs be increased from 60 to 100 to hold ministers to account better.
'Substantive'
Responding on Tuesday to this endorsement of his position, Mr Davies said: "I am pleased that the Electoral Reform Society has backed my call for a wholesale procedural review and sincerely hope that the presiding officer (Dame Rosemary Butler) and other party leaders will also now get behind this.
"I want to see consideration given to an extra plenary session on a Thursday morning, as well as the introduction of 'topical questions' to make proceedings more relevant.
Mr Davies also suggested the presiding officer be given "formal sanction" to censor ministers making major announcements outside the assembly chamber and to force them to give substantive answers to written and oral questions.
But, in a letter to Mr Davies, Dame Rosemary said she was concerned about the comments and the statement of opinion he had submitted.
"As I have stressed to you many times, I am entirely sympathetic to your call for procedural change and improvement in order to make the assembly more effective. However, I find it extremely frustrating when a party leader expresses views publicly that are simply not correct.
Dame Rosemary said she was "puzzled" that Mr Davies had asserted that "a procedural review of assembly business has not been conducted since 2002".
"That is not right," she said.
"A full public consultation and review of all assembly procedures was undertaken by the business committee in 2010 in readiness for the newly elected assembly in 2011."
In response, a senior Welsh Conservative source said: "The fact the presiding officer has shared a letter to a leader of a political party with the media before the recipient has even read it shows the need for a review.
"If the presiding officer thinks the public are engaged, I wonder how many people could name one thing that happened in the chamber today, if not this month?"