Welsh Conservatives 'united' despite shadow cabinet sackings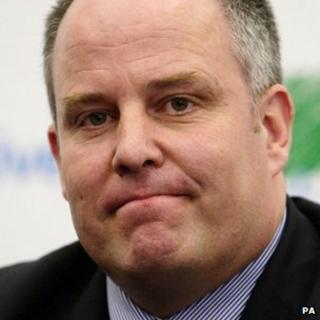 Welsh Conservatives insist their party is united despite the controversial sacking of four shadow cabinet members by the assembly group's leader.
Andrew RT Davies sacked the front bench team members for rebelling against him in a vote on devolving income tax.
Senior figures said on Friday there was "zero support" at a Welsh Conservatives board meeting for Mr Davies's decision.
But the party said leaks from that meeting, held by a conference call, were "bizarre" and that it was united.
BBC Wales has been told by numerous sources that at least one AM who retained his frontbench position was "considering his position" and may resign from the shadow cabinet.
Should a member of the new shadow cabinet resign from the front bench, it would throw the leadership of Mr Davies into crisis.
Nick Ramsay, Antoinette Sandbach, Mohammad Asghar and Janet Finch-Saunders were dismissed from the shadow cabinet on Wednesday for rebelling against Mr Davies in the income tax vote.
But Russell George, Conservative AM for Montgomeryshire and a shadow minister for agriculture and natural resources, described Mr Davies as a "modernising leader".
Mr George added that he had agreed to take on extra responsibilities having been asked to do so by Mr Davies.
He told BBC Radio Wales: "Andrew RT Davies was elected with a mandate. He was elected by the party membership in Wales.
"I've worked with him for two-and-a-half years. As far as I'm concerned he's a progressive leader. He's a modernising leader and he's got a strong agenda.
"I think Andrew's decided to have a smaller shadow cabinet. That's not unusual. I know Plaid Cymru took a similar decision just a few weeks ago."
He added that he found it disappointing there were Conservative assembly members who felt there was a rift in the party.
Mr Davies is critical of the model of income tax powers in the process of being devolved from Westminster to Cardiff Bay.
The four failed to vote in a Senedd motion criticising the model.
The deal on offer to the Welsh government is called the lockstep because any changes up or down would have to be mirrored across all the different bands.
The result is that a Welsh government would not be able to target only a higher rate or basic rate of tax.
Mr Davies has been involved in a public disagreement with Welsh Secretary David Jones over the model of income tax powers.
Mr Davies, like First Minister Carwyn Jones, has been strongly critical of the model, while David Jones has supported it.