Welsh language campaigners chained to government office gates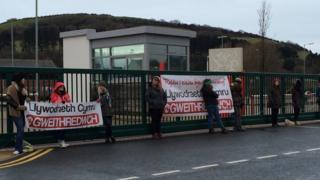 Welsh language campaigners have chained themselves to gates at the Welsh government offices in Aberystwyth.
Cymdeithas yr Iaith Gymraeg (Welsh Language Society) says the Welsh language is in "crisis" and that First Minister Carwyn Jones must take action.
The group said in a statement that Thursday's protest by twelve members was part of a series planned.
Dyfed-Powys Police confirmed it was aware of an protest at Rhodfa Padarn Avenue in the town.
A similar protest was staged at Welsh government offices in Llandudno Junction in February.
In October 2013, the findings of the Cynhadledd Fawr, the Welsh government's consultation on the state of the language following the census results, were published.
It recommended increasing financial investment in the language, making radical changes to teaching Welsh as a second language and changes to planning law.
'Crisis'
Cymedithas spokesman Cen Llwyd claimed the Welsh government was being slow to act.
"We're fed up of waiting for a clear and firm response from Carwyn Jones," he said.
"Everyone sensible has accepted that the language faces a crisis, but the government still isn't doing anything.
"We continue to hope we will see positive change, because with political will, the language could thrive over the years to come. Well over a year since the census results, the lack of government action is laughable."
Dyfed-Powys Police confirmed officers were aware of a protest, adding in a statement: "The role of the police is to ensure the rights of all parties involved are protected.
"It is the intention to allow peaceful protest whilst minimising disruption to members of the public. The local policing team are prepared to manage the event accordingly should the need arise."
The Welsh government said around 400 people were based at the offices, mostly working for Natural Resources Wales, and it understood no-one had been prevented from getting in to the building.